---
On May 19th, 2021, the BC Tech Association hosted a day of business-to-business (B2B) matchmaking – Industry Connection Day. In the event, forward-thinking industry companies, big and small, discussed their challenges and opportunities, and innovative solution providers displayed their novel products to drive market innovation.
Did you miss the event? Check out the recorded panel here or scroll to the end of the page.
The event's theme was Driving Innovation Through Technology Adoption. It was split into two panels, with a brief interval of tech pitches presented in between the sessions and finished off with a networking opportunity. CENGN's President and CEO, Jean-Charles (JC) Fahmy, had the privilege to moderate the first panel, which dived into the nuances of technology adoption by large enterprises from small and medium innovation providers. The panel featured executive representatives from some of Canada's top technology solution providers, Motion Metrics and Meta Innovation Technologies Inc., and the Canadian mining goliath, Teck Resources.
Meta Innovation Technologies Inc. is a CENGN Project Alumni. Click here to see how they carried out a commercialization project on the CENGN testbed.
Canada's Innovation Performance
To kick off the event, JC talked about Canada's current state when it comes to innovation. Regarding Innovation Performance Rankings, Canada ranks 17th worldwide, ranking 9th for innovation input, and 22nd for innovation output, with the main pain points being infrastructure and knowledge/technology outputs. Nevertheless, Canada ranks well in terms of entrepreneurial ambition, something that could be leveraged if there were further improvements to the country's R&D, venture capital, and investment in the information and communications technology (ICT) sector.
As Fahmy pointed out, "In Canada, the most notable barriers to the widespan adoption of advanced tech are the lack of strategy and testing opportunities, the high investment costs and uncertain returns, and the supply of skilled workers."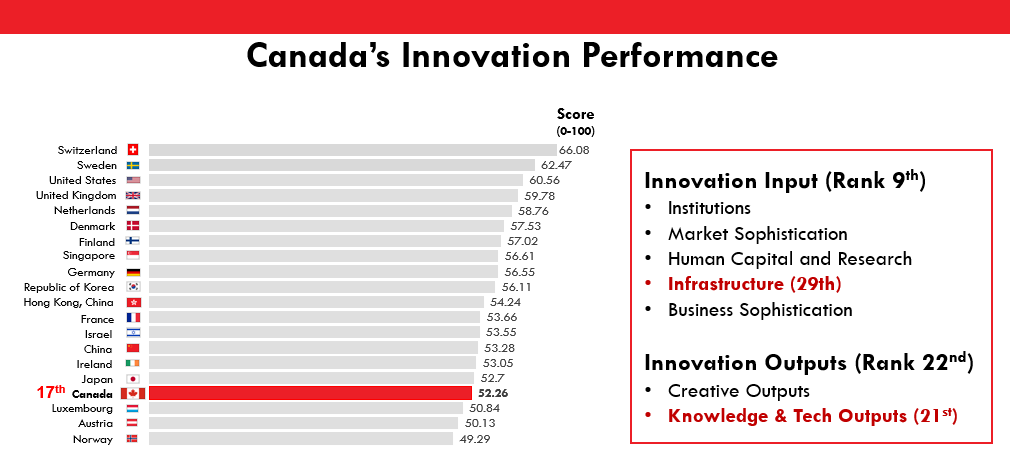 Technology Adoption: Insights and Perspectives from Two Ends of The Spectrum
During the panel, speakers discussed the main challenges in technology adoption from both sides of the problem.
Kalev Ruberg, CIO and VP Future of Teck, commented on the main challenges for large enterprises when adopting new technologies – big companies don't fail enough. This creates an enormous sense of "it's always been done this way" and "if it ain't broke, don't fix it", which leads to higher perceived risk when it comes to introducing new technologies.
Additionally, large corporations in the mining industry operate cyclically, with periods of significant investments followed by periods of famine. During these cycles, they carry out their activities and expect to see a return on investment on recently acquired technology. Thus, they need reassurance that the technology will work properly until the next investment period before buying in. Proof of reliability is a major hurdle for a small business to provide.
The real problem, Ruberg points out that one of the flaws of the mining industry is that it isn't approached through a manufacturing mindset. If this were the case, there would be constant pressure to find improvements and implement innovative technologies to solve the problem, many times offered by smaller providers. Instead, mining is happy to stick with what it knows than risk innovation failure.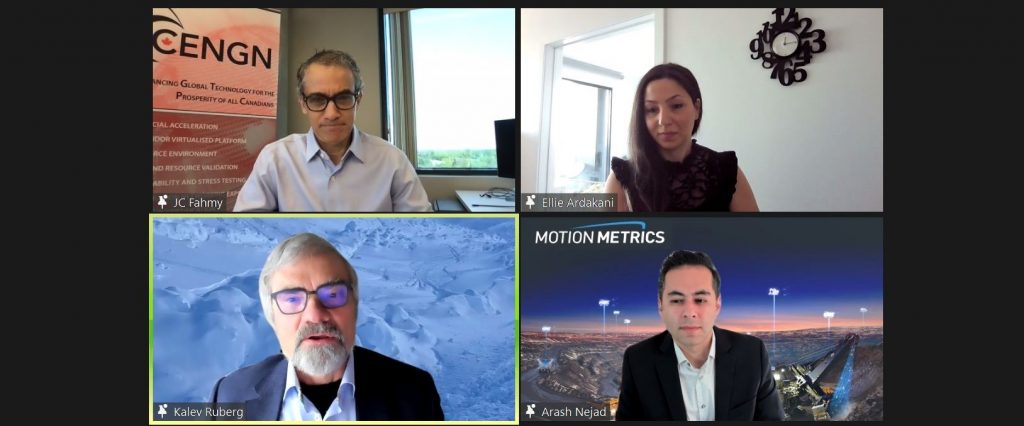 Arash Nejad, Executive Director at Motion Metrics, and Ellie Ardakani, CEO of Meta Innovation Technologies Inc., talked about these points from solution provider perspectives. In line with what Ruberg stated, Ardakani mentioned, "typically, large companies want to bet on what is safe. There aren't enough incentives to bring in new technologies from small providers." Nejad agreed and said that small providers fight a constant battle to prove the value to customers of technology adoption with small and medium enterprises (SMEs). "There are risks, but the process must be conducted together, so there is a deep understanding of the technology and the return on investment it can offer."
Panellists agreed that the lack of incentives, perceived risk, and uncertainty regarding the technology's benefits are significant issues today for large enterprises to adopt technology from smaller innovators. At the same time, the lack of proper education on the value of the technology, validation, and costing were issues faced by the small businesses. This allowed for a final consensus that this needs to change to drive innovation in the industry and Canada as a whole.
Driving Innovation in Canada Through Strategic Partnerships
CENGN and BC Tech have missions very in line with each other. BC Tech intends to make British Columbia the best place to grow a tech company by helping firms grow and scale, driving BC's tech sector and the economy, advocating for policies that benefit the tech community, and providing programs to develop the industry.
Similarly, CENGN has a pan-Canadian mission of driving innovation and growth in the ICT sector through its testbed, technical expertise, talent development, and partner ecosystem. Both organizations aim to advance global technology innovation for the prosperity of all Canadians through the support of Canadian innovators and partnerships with academia and industry leaders.
For Canada to reach its potential, there are some general principles and approaches that Canada and all provinces should pursue to enhance innovation. Among these, it is imperative that our emphasis on innovation increases, technology adoption is improved, a healthy business climate is created for new ventures, and management and skills are enhanced to address the challenges and opportunities technology innovation brings effectively.
All of this is achieved by moving towards an inclusive innovation plan, collaborating with all sectors of the economy.
Interested in more events like this one? View the CENGN events page to see which events CENGN is taking part!
[cherry_button text="Check Out Our Upcoming Events" url="https://www.cengn.ca/events/" style="default" centered="yes" color="#0a0a0a" target="_blank" rel="noopener noreferrer"]
Recording of BC Tech Industry Connection Day: Innovation And Technology Adoption In Canada:
CENGN updates, in your inbox.