---
CENGN just attended TechNATA, Kanata's largest career fair, and we wanted to give everyone a sneak peek of the opportunities and perks of being a CENGN employee. Whether you are enabling innovative Canadian companies to accelerate market success, out of office at a tech event, or working hands on with our commercial-grade infrastructure, each day offers exciting new challenges and opportunities for every member of our team.
CENGN is conveniently located in the Kanata North tech park, a hub of businesses that houses over 500 companies and 21,000 employees, facilitating collaboration and innovation among Canada's finest tech leaders. Here, we are surrounded by new ideas and solutions every day, allowing us to stay up to date on the most leading-edge technology. Within a few minute walk from our members and partners, our location and its atmosphere allows us to stay engaged and connected. The fast pace setting of Kanata is perfect for the CENGN culture, matching our company's efforts to keep our workers active and inventive.
CENGN Culture
CENGN staff learn something new every day! Both full timers and interns are eager to share and gain knowledge to keep fresh ideas circulating the company. The working atmosphere encourages everyone to get involved at CENGN, wanting employees to not only connect with their peers, but also with our globally recognized ecosystem.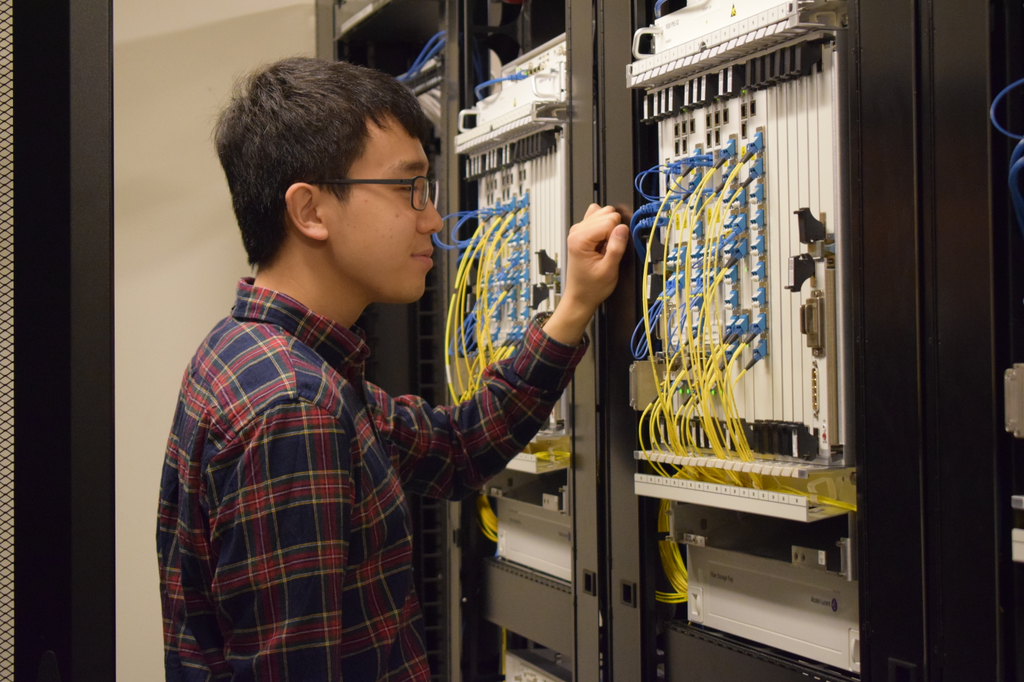 Be Part of an Organization that is Bigger Than Its Office Space
A huge benefit of working with CENGN are the connections we can provide to organizations in all the different sectors in Canada. We work with everyone from top multinationals, to academia, government, and the most successful small and medium-sized enterprises (SMEs) in the country. This is especially intriguing for our student interns who will be searching for full time work once they graduate. It is common for the connections made between CENGN staff and our members and partners to turn into future job opportunities.
Grow with the Company
Future job opportunities aren't the only perk of working at CENGN! We are looking to hire employees of all different experience levels to join our team, giving entry level positions the same treatment and learning opportunities as full timers. We train students and staff with our second to none boot camps that touch on topics like Linux, Docker, Kubernetes, OpenStack, NFV, and more to assist in establishing the finest talent pool in Canada.
Check out our training opportunities, by clicking here to visit CENGN Academy!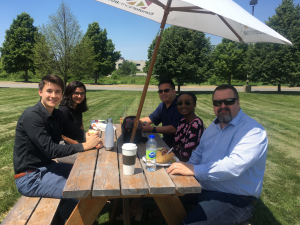 A Fun Office
CENGN works hard, but also knows when to take off our headphones to have fun! Not only do we attend and organize tech and networking events, but we also have a social committee dedicated to planning fun gatherings and luncheons for staff. We've done everything from zip-lining, to archery tag, to board game nights, and to holiday contests. This way everyone can get to know the people who sit meters away from you!
A Common Goal
Although socials and our culture are great bonuses to joining our team, the main reason CENGN is a well-oiled machine is the common goal of completing work that is impactful and beneficial to all of Canada. We wouldn't be able to do this without our company's missions and goals resonating with our staff. Our team believes in CENGN's end goal of enabling innovative economic strength and prosperity for Canada through enabling our country's Information and Communications Technology (ICT) sector. We do this through helping developing companies overcome commercialization barriers with the aid of our commercial grade infrastructure and technical support. By continuing our quest for knowledge about the latest tech, we can remain on the leading edge of creative technology.
See more more benefits to working at CENGN in the video below.
If you are a motivated, collaborative and eager-to-learn individual, check out our full-time job opportunities to see if there is a fit for you!
CENGN updates, in your inbox.