---
Published: June 15th, 2018
We are happy to announce that seven new CENGNeers successfully passed the Cloud Administration and Networking Certification (CANC) Examination as part of CENGN's CANC program. A year ago, CENGN decided to offer its own certification program to showcase the positive impact of the boot camp we give incoming engineers. We now have a total of 15 certified individuals who have been guided through the program and effectively demonstrated their proficiency in next-generation principles.
Previously known as the Pharos Lab as a Service (LaaS) program, this CENGN training certificate officially recognizes an individual's understanding of networking principles and next-generation technologies, focusing on the following topics: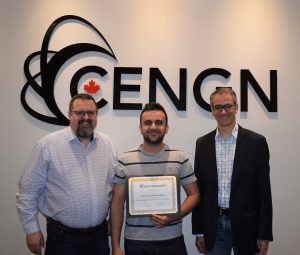 Networking Fundamentals
Linux Fundamentals
Cloud & OpenStack Principles
NFVi Principles and Value
OPNFV Pharos PODs Architecture
Practical Lab Secure Design
Introduction to HEAT Orchestration
In order to gain the skills necessary to pass the exam, CENGN engineers spend their first three weeks enrolled in a boot camp that lays the foundation for their learning. The first week involves a general overview of the CENGN testbed and infrastructure services. The following two weeks delve significantly deeper into next-generation networking principles like Software Defined Networking (SDN) and the latest cloud technologies, including OpenStack, Docker and Kubernetes. These training sessions ensure that our engineers have a strong understanding of what they will be working on throughout the semester.
Passing the CANC exam confirms each candidate's understanding of how to deploy OpenStack with Linux Foundation projects. This recognition enables them to commence their work on CENGN's next-generation commercial grade infrastructure. It also demonstrates that these young professionals have earned a competitive edge and have what it takes to succeed in the industry.
CENGN's internship program helps students build their professional profile by integrating real-world experience with their studies. We partner with academic institutions from across the country so that we can recruit students passionate about developing their skills in the information and communication technology sector. Our team strives to impart the knowledge and expertise on students that will add to the highly-skilled pool of professionals in the Canadian ICT industry.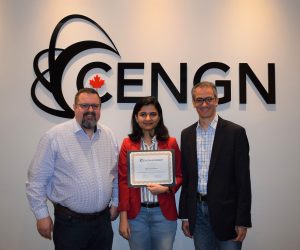 Building a pool of talented individuals will enable growing Canadian companies to fill an increasing number of job openings with talent that will drive their success without having to search outside the country. Our mission is to ensure that both small enterprises and large multinational businesses, like our members and partners, have easy access to the talent they are looking for so that they can remain in Canada and continue to be powerhouses in the tech industry.
Are you looking to hire a former CENGN student? Click here to learn more!
By administering these certificates, CENGN is proudly recognizing the hard work and aptitude possessed by several of our students and new engineers. Graduating from the CANC program is a huge accomplishment, and we believe that it is an indicator of the future successes of these talented individuals.
To our CENGNeers: Congratulations, we wish you all of the best in your future career endeavours!
If you are interested in learning more about student opportunities at CENGN, visit our student page with the button below:
[cherry_button text="Students" url="https://www.cengn.ca/service-view/academia-students/" style="default" centered="yes" fluid_position="right" icon_position="top" color="#000000″ min_width="80″ target="_self"][/cherry_button]
CENGN updates, in your inbox.