---
Published: February 8, 2018
CENGN has participated in yet another exciting event: the 5G Canada Council 2018! On February 8th, scores of people flocked to the National Arts Center in Ottawa to discuss and ponder the future of 5G technologies in Canada, and how ICT leaders and industry members from around the country can band together to stir the next generation of networking.
The 5G Canada Council was established by the Canadian Wireless and Telecommunications Association (CTWA) to open a dialogue focused on 5G technologies in Canada and the challenges, benefits, and priorities related to the introduction and development of them. By creating a supportive environment for tech industry leaders and professionals alike, the 5G Canada council seeks to focus the efforts of Canadian talent through cooperative research and cross-sector collaboration.
The application of 5G mobile networks in Canada would allow for a higher density of broadband users, lower latency when compared with 4G technologies, and lower battery consumption, making for better implementation of Internet of Things (IoT) and more efficient and reliable connectivity across the country. This will help accelerate the Canadian tech industry, making for a better future for all Canadians.
The event involved various keynotes and presentations from industry leaders from across Canada, including speakers from the CTWA, and several CENGN members: Bell, Nokia, and Huawei. The topics ranged from "The Role of the Government in Enabling 5G" to "How 5G Can Help Municipalities Become Vibrant Smart Cities". Three CENGNeers attended the event looking to gain insight on the future of 5G and related technologies. There, they explored the possibilities before us and discussed the logistics necessary to carry the Canadian ICT industry into the next generation of networks, staying true to their goal of keeping Canada at the forefront of innovation.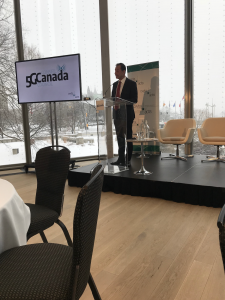 CENGN's mission is to enhance Canada's leadership in the ICT sector, fostering innovation and making for a stronger Canadian economy. By partnering with small and medium sized enterprises (SMEs), our members and partners, and the government, we encourage cross-collaboration projects and research endeavours to achieve one common goal: economic and technological development in Canada. In doing so, the prospect of more innovative solutions, better connectivity, and an increase in ICT sector jobs across the country can be realized. We work with SMEs in the tech industry by offering our CENGN infrastructure and services for them to utilize, giving them the opportunity to validate and bring to market their innovative solutions. With the help of our members and partners, CENGN has the resources needed to support these SMEs, and the chance to connect large, multinational organizations to growing Canadian businesses for mutually beneficial joint projects and partnerships.
The 5G Canada Council embodies the same principals by connecting leading members and professionals across the Canadian tech industry to create a cohesive environment for discussing the innovation and exploration of 5G technologies. The event brought the challenges and problems of 5G networking to the attention of its attendees, eliciting important dialogue and brainstorming opportunities, as well as emboldening Canada's transition into the next generation of networking. CENGN is grateful to have participated in the 5G Canada Council this year, and hopes to do so again in the coming years.
Until then, CENGN will be attending a number of events, including Mobile World Congress, where we will be hosting our own meeting room! We are providing tickets for those who are part of the CENGN ecosystem, be they members/partners or SMEs. If you want to learn more about the event or are looking to attend, have a look at our events page or the Mobile Word Congress Webpage for more information.
You can also contact us directly to figure out how we can help you get to the event: events@cengn.ca
Check out our events calendar to stay in the loop and know where CENGN will be heading next:
[cherry_button text="Events Calendar" url="https://www.cengn.ca/events/" style="default" icon_position="top" bg_color="#ffffff" color="#000000″ min_width="80″ target="_self"] [/cherry_button]
CENGN updates, in your inbox.