---
Yesterday, CENGN held its third Annual General Meeting for the 2017 fiscal year at our headquarters in Kanata North.
Each September, CENGN's AGM brings our directors, members and partners together under one roof to review the organization's achievements over the past year and look forward to the goals of the coming year. This meeting serves as a platform to evaluate CENGN's progress towards completing its objectives, including completing projects with Canadian small and medium enterprises (SMEs), hiring students, training and strengthening its bond with the ICT community through its members and partners. Our agenda for this year included presentations by CENGN's leadership, demos showcasing recent updates to CENGN's cloud Infrastructure, as well as a networking lunch.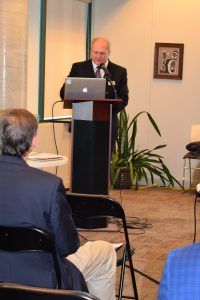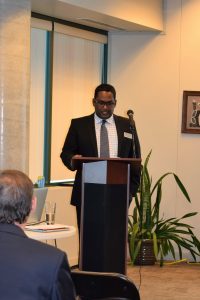 During the President/CEO update, Ritch Dusome affirmed the continuous growth of CENGN from FY2016 with three new members, Bell Canada, GENBAND and Mitel, 42 hired student interns, and 204 attendees at CENGN training sessions. He highlighted some of CENGN's new service offerings to SMEs including our 10Gbps peering connection with ORION, the implementation of Wind River's Titanium Edge into CENGN's infrastructure, and the deployment of a LoRaWAN based LPWAN (low power wide area network). FY2017 also saw CENGN undertaking ten SME projects, achieving 125% of the annual target. To conclude his presentation, Ritch announced plans to expand CENGN's infrastructure across Ontario, highlighting the $63.3 million dollars of funding provided by the Ontario government in April. Ritch stated that a successful CENGN Cloud expansion across the Province will reveal the need for the federal government to support a country-wide expansion of smart infrastructure to propel the growth of Canada's digital economy.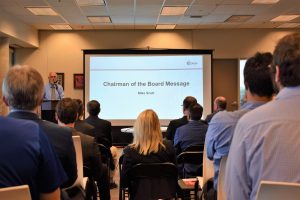 Also speaking at the event, Board Chairman, Mike Scott, delivered a short message commending CENGN for our accomplishments to date. He acknowledged our industry members for their consistent backing, noting their role in helping us achieve our mission to promote commercialization in the ICT industry. CENGN's Director of Finance, Robin Ramrup, also shed some light on CENGN's strong financial position for the 2017 fiscal year.
Prior to the meeting, attendees had the opportunity to visit our various demo booths amidst conversations over lunch. The AGM demo zone featured four live demos showcasing the CENGN Cloud Infrastructure, EXFO vWorx and vVerifier on CENGN Cloud, CENGN LoRa Services and the CENGN Pharos Lab Program.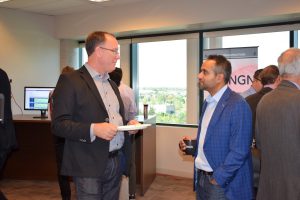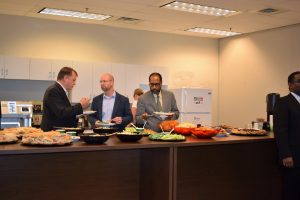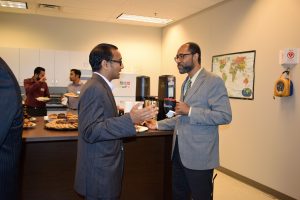 Attendees during the networking lunch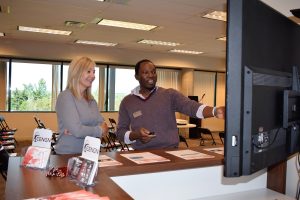 The first demo highlighted the CENGN Infrastructure's unique features that allow us to host multiple secure and isolated projects on an open source cloud platform. With our highly available redundant infrastructure, we ensure that projects do not undergo any interruptions in the event of any technical issues. Manning this demo booth, Ochuko Benemoh, Cloud Infrastructure Engineer, demonstrated how the CENGN project space is divided between internal member/partner projects and SME projects.
We're constantly looking to carry out more collaborative and innovative projects with Canadian businesses and organizations. Do you have a project in mind? Click here to submit your project today!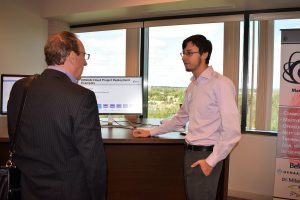 The AGM also had a booth to exhibit CENGN's deployment of EXFO's vWorx and vVerifier software onto the CENGN cloud. As a Tier 1 member, EXFO has provided these virtual technologies to the CENGN Cloud, allowing us to monitor the health of our infrastructure and ensure we provide quality end-to-end service to our SMEs and members. Check out our blog to learn more about this technological addition.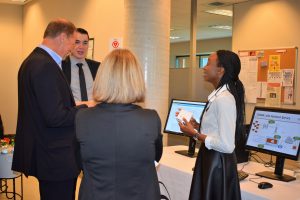 With the recent introduction of CENGN's LoRa IoT Validation service, Canadian SMEs looking to conduct a CENGN project will have access to low cost IoT connectivity for the development and testing of their innovations and products. At the CENGN LoRa Services demo booth, Eseoghene Djetore, a Junior Product Manager, introduced the properties of CENGN's LoRa technology as well as its application to various industries. She also talked about CENGN's partnership with Eleven-X and deployed a LoRa sensor to illustrate how the LoRa service will work for SME projects. Read more about CENGN's deployment of LoRaWAN here.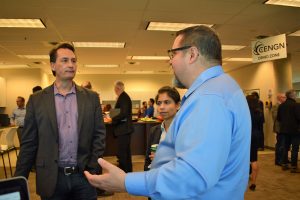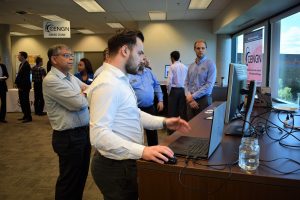 For our fourth demo, Dave Urschatz, our Senior Tech Lead, presented on the features and benefits of CENGN's new Pharos lab training program, pointing out its end goal of increasing the pool of skilled next generation engineers for the tech industry. Having just completed the program alongside fellow Engineering students, Sam Robillard demonstrated how to administer OpenStack on the Pharos lab by launching a script that automates the deployment of a web server stack.
Looking back, we're proud of the remarkable headway CENGN has made since its inception two and a half years ago. As a consortium of member organizations, we continue to deliver on our commitment to promote co-opetition and leverage industry expertise to lower the barrier to entry for Canadian SMEs.
Overall, the 2017 Annual General Meeting went off without a hitch. We would like to extend a big thank you to everyone who attended the event and contributed to its success. FY2017 was an amazing year for CENGN, and FY2018 is certainly off to a great start!
[cherry_button text="View FY2017 Annual Report" url="https://www.cengn.ca/wp-content/uploads/2017/09/AGM-2017-Sep-29.pdf" style="default" icon_position="top" bg_color="#ffffff" color="#000000″ min_width="80″ target="_self"]Board of Directors [/cherry_button]
CENGN updates, in your inbox.