---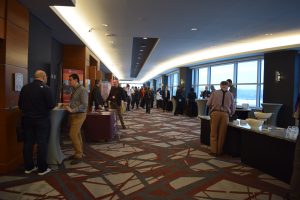 Last week, the Brookstreet Hotel was filled with representatives from multinationals, small and medium sized enterprises (SMEs), government, and academia, all bearing in mind a single topic: Autonomous Vehicles (AV). Hosted by Invest Ottawa and the Kanata North Business Association, in partnership with CAVCOE, the 2018 annual Autonomous Vehicle Summit was a huge success!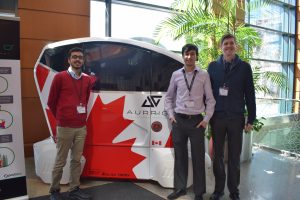 Starting bright and early in the morning, attendees of the AV Summit got a head start on networking, checking out the booths, and making connections while enjoying a complimentary breakfast. Big news came in an early keynote from David Keene of Aurrigo, UK maker of driverless pods, when he announced that Aurrigo has selected Ottawa as a base of operations for its North American testing. The day continued with thrilling and thought-provoking conversations. Looking at past progress and future opportunities of Ottawa and Canada, the 2018 AV Summit presented ample opportunity for learning and sharing insights on the future of AV in Canada.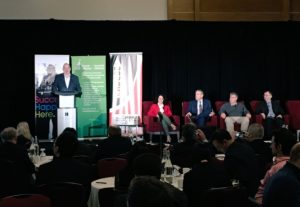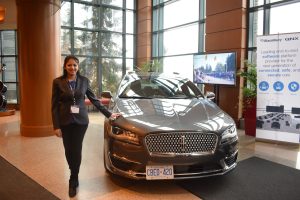 Various topics surrounding autonomous vehicles and connected vehicles (CV) were brought up, such as the role of legislature in future AV-enabled societies, the political environment and responsibility of future governments in paving the road for smooth implementation of AVs, and the social implications of adopting AV/CV tech. CENGN's own Richard Waterhouse served as a moderator on the Charting AV/CV Technology Opportunities and Challenges panel, where the possible stake that Canada could have in the future AV/CV industry was presented, and the challenges leading to that point addressed.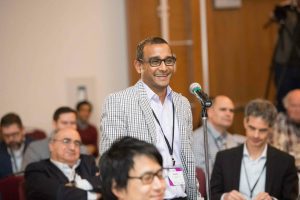 CENGN was happy to sponsor the AV Summit this year, and we were pleased to see some involvement in AV from some of our top members and partners like Huawei, Juniper Networks, Mitel, Nokia, Invest Ottawa, and the Ontario Centres of Excellence (OCE). We also got the chance to connect with different organizations at the event who could leverage the CENGN testbed and pursue projects with us. It was not surprising to see such an engaged group of technology and AV companies at the event, especially after many attendees gathered at the autonomous vehicle demo in Kanata last fall. Overall, the 2018 AV Summit was a great opportunity to strengthen current connections and build new bridges with AV-focused companies, giving us the opportunity to aid Canada's transition into an AV/CV powerhouse.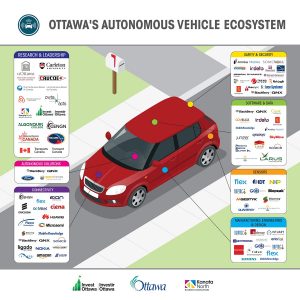 As a company focused on helping grow Canada's networking industry, CENGN has an infrastructure that can be an enabler for the AV sector. Autonomous vehicles will need to be connected to various entities like smart cities, mobile devices, traffic lighting, and other AVs, while being kept secure and uncompromised from potential cyber threats. The underlying network of AVs and CVs will be complex and will require a safe and strong infrastructure for AVs to function safely. This is where our mission comes in. By providing SMEs with access to ultra-high-speed connectivity, CENGN can enhance their innovative solutions and speed up the process by which these technologies reach the market.
It is important to note that AV technologies can be used in spaces other than transportation; AV/CV can be also be leveraged in the areas of smart mining and agriculture, drone technologies, and in any areas where having human-operated vehicles would be unsafe. These applications of AV/CV are just on the horizon and are expected to be implemented sooner than in transportation. Because of the fast-approaching implementation of AV/CV tech in these areas, CENGN has already begun investing in smart mining and agriculture in Ontario with our NGNP program, which dedicates a portion of our resources to SMEs performing R&D in these spaces. It is through these areas that the testing and refinement of AV can be realized before being used in human transportation, ensuring a safer transition into a fully-enabled AV world.
Attending events like the AV Summit is important to us because it gives us a chance to network with new and old connections, as well as stay up to date with the latest in the industry. We are glad to have gotten the chance to join hundreds of AV enthusiasts and leaders at the summit and are looking forward to attending again next year!
Interested in hearing more about events we'll be attending? Check out our events calendar below:
[cherry_button text="Events" url="https://www.cengn.ca/events/" style="default" centered="yes" fluid_position="right" icon_position="top" color="#828282″ min_width="80″ target="_blank"][/cherry_button]
CENGN updates, in your inbox.