---
On October 23rd, CENGN joined in on conversations surrounding tech innovation in the video game industry at the Beyond Entertainment Conference 2017.
Beyond Entertainment is a full day seminar hosted by the Entertainment Software Association of Canada(ESAC) to discuss the role of the video game industry in advancing non-entertainment sectors of the economy. ESAC is an industry association that works on behalf of its members to ensure the legal, regulatory and public affairs environment is favourable for the long-term development of Canada's video game industry. Members consist of video game makers, publishers, developers, national distributors and other industry stakeholders. As the voice of Canada's entertainment software industry, ESAC brought together tech innovators, industry leaders, academia and government decision makers to demonstrate how technology developed for video games is now used beyond entertainment.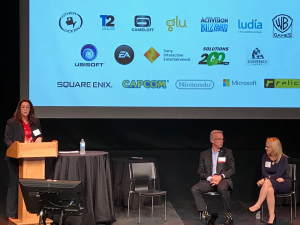 The event program consisted of presentations by leading industry players, panel discussions, networking sessions, and product showcases from featured companies. After a brief opening statement by the President and CEO of ESAC, Jayson Hilchie, the day kicked off with an overview of the Canadian video game industry by panelists Sean Casey, Parliamentary Secretary to the Minister of Canadian Heritage, Deirdre Ayre, Head of Operations at Other Ocean Interactive, and Tanya Woods, Vice-President Policy & General Counsel of ESAC. This discussion highlighted the contribution of the video game industry to Canada's GDP and employment ratio, as well as how the industry has transformed other economic sectors and continues to shape Canada's future.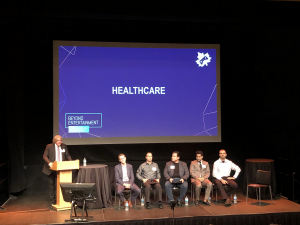 Throughout the day, several cross-sector success cases were shared with the audience. In a session on healthcare, Mark Evin, CEO of Jintronix indicated the importance of interactive video games as a tool for reducing the rate at which Canadians drop out of rehab. CEO of Amblyotech, Joseph Koziak, also introduced a therapeutic video game called Dig Rush, which trains the brain to treat lazy eyes or amblyopia. With regards to the education sector, virtual and augmented reality are changing the way children learn and interact with their surroundings. Likewise, the automotive sector has benefited significantly from gaming technology. It was particularly interesting to explore the connection between these two industries in view of the recent demonstration of autonomous vehicles here in Ottawa.
Beyond Entertainment featured a special keynote by the Minister of Innovation, Science and Economic Development (ISED), the Honourable Navdeep Bains. In his address, Minister Bains noted that innovation is the underlying solution to current economic, environmental and political challenges including climate change and population growth. He cited that technology from the gaming industry has advanced computing processing power, improving efficiency, lowering costs of mobile devices and bettering the lives of people. Minister Bains was enthusiastic to see technology and digital media students from Osgoode High school in attendance because in his words, "It's the next generation that will revolutionize video game technology even further".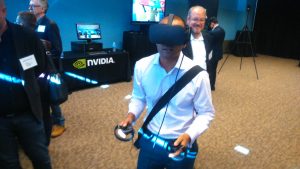 Several organizations attended the event including CENGN's academic partners McGill University and University of Waterloo. CENGN was there as well promoting our mission to help commercialize innovative technologies and showcasing our Infrastructure and services. The event gave CENGN the opportunity to learn about some of the latest in Artificial Intelligence (AI), Internet of things (IoT) and other project areas, as well as explore how these could be useful to Canada's ICT sector. We also got to network with small and medium enterprises (SMEs) and build connections in the video game industry.
As a consortium of multinationals, academia and government, CENGN doesn't miss out on events like these which unite different stakeholders for the common purpose of promoting economic development in Canada's tech sector. We would like to congratulate the Entertainment Software Association of Canada and the event sponsors for putting together an exciting lineup of activities. We look forward to seeing more amazing technologies from the video game industry and their surprising impacts on Canada's business and quality of life.
[cherry_button text="View other CENGN Events" url="https://www.cengn.ca/events/" style="default" icon_position="top" bg_color="#ffffff" color="#000000″ min_width="80″ target="_self"]Board of Directors [/cherry_button]
CENGN updates, in your inbox.