---
Just yesterday, our VP of Program and Product Management, Bhavani Krishnan, attended Ottawa's Big Data and Cybersecurity Conference to discuss the revolution of big data and the malware that threatens it. The conference brought together cybersecurity experts from Germany and Canada to discuss the latest developments in the industry and gave us the opportunity to take part in workshops ranging from preparation for the big data revolution to cyberthreats and autonomous cars.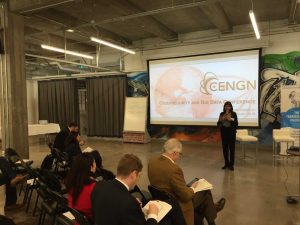 The Canadian German Chamber of Industry and Commerce hosted the conference at the innovation centre in Bayview Yards, where people both knowledgeable and concerned about big data gathered to discuss cybersecurity and the issues revolving around it. The event, which was organized in partnership with CENGN's member Invest Ottawa, allowed us to give insight on the challenges and solutions to Canada's cybersecurity problem.
Cybersecurity has become a topic of growing importance in our world of information technology and hyper connectivity. The global Internet of Things (IoT) ecosystem has undergone a massive expansion, and will continue to grow and spread throughout the globe. This IoT ecosystem enables the collection and transportation of vast amounts of data, all of which is at risk from an increase in cyberthreats from cyber criminals, hackers, and terrorists. To combat these continuously evolving cyber attacks, new and innovative cybersecurity solutions must be generated. This is where the Big Data and Cybersecurity Conference focussed its agenda; by connecting driving members of the cybersecurity community from Germany and Canada, the event stirred important conversation and idea generation on how we can make impacts on the future of the cyberworld.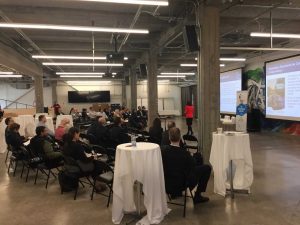 Taking the stage on behalf of CENGN, Bhavani Krishnan took part in the "Bridging the skill gap" panel. While there, Bhavani spoke on the challenge of education as it relates to data science and cybersecurity, and possible collaborations with the Germany in order to fill the gap between industry demand and educational output. She also got the chance to converse and share ideas with some of the leading professionals in the cybersecurity sector, providing further insight on the cybersecurity industry and its future in Canadian business.
CENGN is no stranger to the importance of cybersecurity. In fact, our organization has completed projects with a number of growing Canadian businesses that offer security services such as InBay, InfoSec, and StreamScan. We give small and medium sized enterprises (SMEs) the opportunity to test and validate their innovative security solutions on a platform with access to leading edge technology through our multi-vendor infrastructure and services. In doing so, our SMEs can accelerate their time-to-market, as well as get the opportunity to show off their new technologies to our members and partners.
The opportunity to learn about and discuss the latest trends in cybersecurity was very valuable for us as we continue to conduct cybersecurity validation projects with SMEs across Canada. By attending the Big Data and Cybersecurity Conference, we were able to take a fresh look at the cybersecurity industry and assess the challenges that lie ahead, better preparing us for our future security projects with SMEs. Our projects will push forward innovation in the Canadian cybersecurity sector, which will benefit all the organizations that are relying on safe and secure networking to transfer data.
We would like to thank the Canadian German Chamber of Industry & Commerce for providing us with this opportunity to explore the future of the cybersecurity industry and plan for a stronger, cybersecure future.
CENGN will be attending more exciting events! Have a look at our events calendar to keep track of where we'll be headed in the coming weeks:
[cherry_button text="Events Calendar" url="https://www.cengn.ca/events/" style="default" icon_position="top" bg_color="#ffffff" color="#000000″ min_width="80″ target="_self"] [/cherry_button]
CENGN updates, in your inbox.