---
Published: October 12th, 2018
Last week, CENGN took part in the annual CANARIE Summit, joining fellow leaders within the Canadian ICT community to discuss the latest discoveries in science and technology, research and innovation in Canada!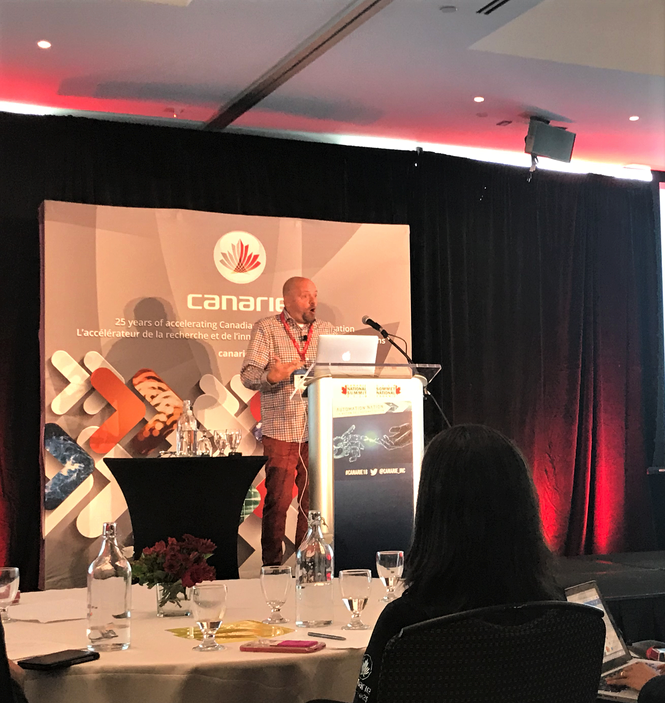 The CANARIE National Summit is an annual event hosted by CANARIE, a long-standing contributor to Canada's digital infrastructure supporting research, education, and innovation. As an organization, CANARIE focuses on advancing Canada's knowledge in networking technology and innovation infrastructure. CANARIE promotes their company mission throughout their summit by creating an opportunity for professionals to share their knowledge amongst one another concerning technology and innovation.
This year's theme was called Automation Nation. The CANARIE Summit focused on exploring opportunities and challenges in Canada's automated future and the impact automation will have on business, innovation, discovery, and ethics. The event explored opportunities and challenges in automation through three key topics – to understand the balance between automated and manual, learn about the impact of automation, and lastly, engage with one another to collaborate on new ideas and initiatives. These three major themes were explpored in detail throughout CANARIE's 2-day program.
The event kicked off with a warm welcome from CANARIE's President and CEO, Jim Ghadbane, and VP and external relations, Kathryn Anthonisen. They highlighted their major achievements over the year, as well as their vision for CANARIE's year ahead.
Next up was Dr. Helen Papagiannis, an expert on augmented reality (AR), who highlighted how our digital future is essential to rapidly grow our ICT sector. She went on to provide insight on the significance of augmented reality and the opportunities AR presents for business, design, and culture.
The other speakers touched on themes such as artificial intelligence, deep learning, financial literacy, public service and security. Each presentation provided insight on an aspect of how automative technology is affecting us both socially and economically. Just to name a few speakers, CANARIE Summit showcased Robin Winsor, President and CEO of Cybera, Natalie Cartwright, Co-Founder & COO at Finn Al, Dr. Issac Tamblyn, Research Scientist at National Research Council, as well as Dr. Pooja Viswanathan, CEO, Co-Founder and Director at Braze Mobility. Each presentation was extremely informative, eye-opening and engaging!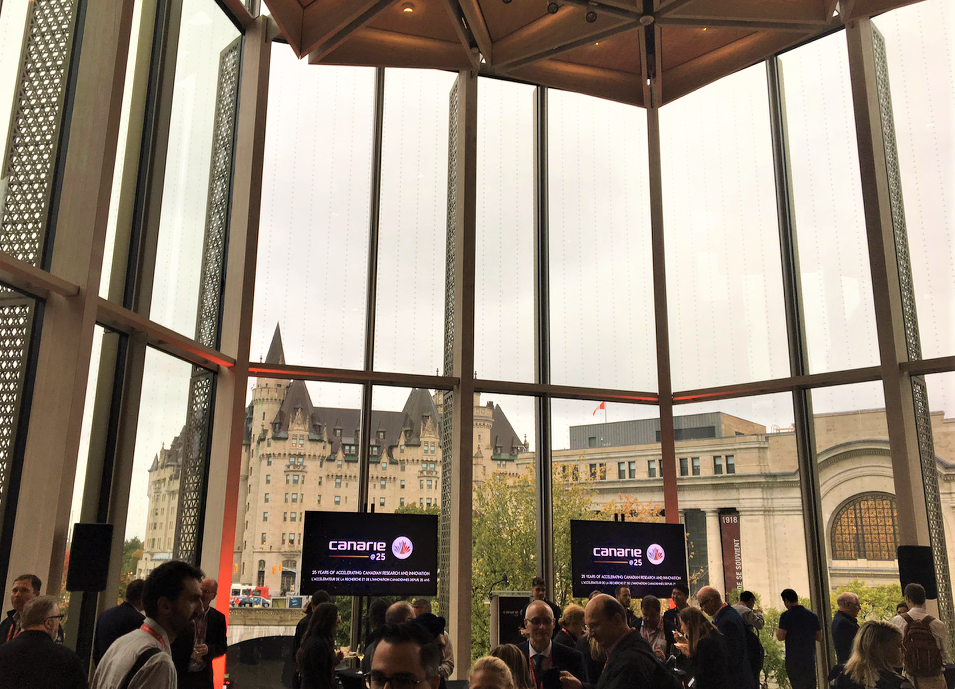 CANARIE also set aside plenty of time for networking, with good breaks for discussion between each presentation and at the beginning of each day. This was a great opportunity for us to develop new relationships for potential members/partners as well as re-connect with those in the community.
It was great to support CANARIE by sponsoring and attending the organization's 2018 summit. CENGN and CANARIE have built a very strong relationship through our partnership over the past four years. In fact, our organizations are connected through infrastructure, making CANARIE a powerful point of presence for providing services towards our projects throughout the years. This partnership in network as well as services is extremely beneficial to the small and medium enterprises (SMEs) looking to conduct validation testing on their products and solutions. The partnership provides the opportunity to leverage the infrastructure at both CANARIE and CENGN to test next generation technologies.
All in all, the CANARIE Summit was a huge success, being extremely engaging and informative throughout its two days duration. We want to extend a congratulations to CANARIE and the sponsors for all their hard work.
As with previous years, the conclusion of CANARIE Summit means it is our turn to put on an event! CENGN will be hosting the ICT community at our own Summit on November 27th with the theme of Prosperity Through Connectivity. It will be taking place at the Brookstreet Hotel and will discuss how organizations today need access to high-speed connectivity and a durable infrastructure to continue driving the innovation economy to the next level.
The event is fast approaching and we're starting to get a glimpse of some of the speakers at the event, including Don Duval, Jean-Charles Fahmy, Claudia Krywiak, and Mari Teitelbaum!
We hope to see you there!
Click here for more information on our speakers and jam-packed program.
CENGN updates, in your inbox.