---
On October 12th, CENGN made the trip to Toronto to attend Cisco Connect Toronto 2017 at the Congress Centre.
Each year, CENGN member, Cisco, hosts a series of IT conferences across Canada, which give attendees the opportunity to learn from local experts, experience the latest Cisco technology solutions, and network with industry leaders as well as Cisco's leadership. The events, which typically take up a full day, consist of keynote presentations, exhibitions, afternoon tea meetings and breakout sessions on themes like Data Center and Cloud, Internet of Things (IoT), Security, Network Infrastructure, and Collaboration. Kicking off the 2017 Canadian tour, Cisco Connect Toronto brought together thousands of engineers, developers, operators, and business professionals to discuss the importance of digital transformation based on the overarching theme, 'Your Time is Now'.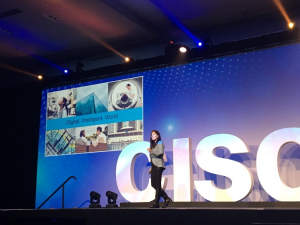 The event began with opening keynotes by the President of Cisco Canada, Rola Dagher, and SVP Global Security and Networking Sales, David Justice. During her presentation, Rola highlighted Cisco's commitment to driving growth and prosperity in the Canadian tech ecosystem through research and development, Cisco's networking academy and its innovation centre. She also noted the growing significance of data to human progress, emphasizing the limitless possibilities associated with comprehensive data analysis. Building off her points, David Justice spoke about the importance of cyber security. He drew the attention of the audience to the looming threat of cyber criminals who are figuring out how to monetize data. David ended his presentation pointing out the need for a strong network architecture which would allow all digital solutions to work together to combat cyber crimes.
The morning keynotes were followed by breakout sessions led by members of Cisco's leadership. This year, Cisco featured a special session with Apple's Global Executive team during which they discussed how the two companies have partnered to develop solutions in an effort to accelerate mobile transformation.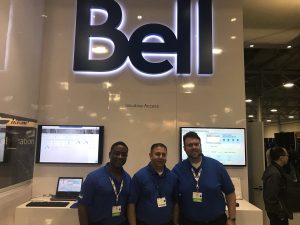 Cisco's 'World of Solutions' grounds was packed with exhibitions from several small and medium enterprises (SMEs) and multinationals including Bell, and TELUS. During breaks, attendees got to see cool demos, try out prototypes and learn about some upcoming projects from featured companies.
One subject matter which has become more and more relevant with the evolution of the tech sector is female participation. As one of the few female leaders in the industry, it was interesting to listen to Rola Dagher's experiences and insights during the afternoon tea session organized by Cisco's Empowered Women's Network. Her speech was bursting with words of wisdom to fellow women as she encouraged them to step out of their comfort zones and push through any limitations of the past.
On behalf of CENGN, Ritch Dusome, President and CEO, and Ochuko Benemoh, Cloud Infrastructure Engineer, were in the center of all the action. They had the opportunity to build meaningful connections and promote CENGN's Infrastructure and services among leaders in the ICT industry. As an avid advocate for networking and collaboration, CENGN is always delighted to participate in events like these which bring together different stakeholders in tech for the common purpose of elevating Canada's status on the global stage.
In fact, Cisco has been a long-time member of CENGN and continues to support our vision to build Canada's leadership in next generation technologies. Earlier this year, we worked with Cisco to test Fast Data Stacks as an OPNFV project, and validate a new SME product. They even participated in last year's CENGN Summit with a presentation by Regional Director of Cisco, Eric Thibault, on "Creating a Smarter World…One Building at a Time". Check out the presentation video here.
By and large, Cisco Connect Toronto 2017 was an amazing experience. To Cisco and all the sponsors who made sure this event went off without a hitch, we say a huge bravo! Last week definitely featured some remarkable events. Don't forget to check out where CENGN is heading this week.
[cherry_button text="View other CENGN Events" url="https://www.cengn.ca/events/" style="default" icon_position="top" bg_color="#ffffff" color="#000000″ min_width="80″ target="_self"]Board of Directors [/cherry_button]
CENGN updates, in your inbox.