---
Concordia University hosted a Co-op Awards of Recognition Event and Student Showcase Thursday evening where accomplished students and outstanding employers were celebrated. The award-filled evening was a wonderful way to recognize the students' hard work and the important role that employers play by encouraging students to contribute to their workplaces. At the ceremony, former CENGN student, David Seccareccia, was recognized as the winner of the Co-op Employers' Choice Award for his outstanding work-term performance and overall contribution to CENGN.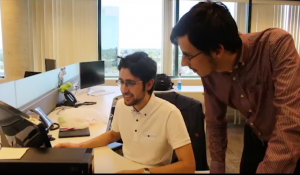 As a Student Cloud Network Engineer at CENGN, David contributed to the configuration and operation of the CENGN Testbed in the areas of cloud orchestration and virtual networking. During his work-term, David successfully deployed and installed OpenStack, strengthened firewalls, and gained hands-on experience working with networking equipment.
David played a major role in configuring the eleven-x Long Range (LoRa) gateway that was installed at CENGN last summer. This type of technology is designed for industrial and commercial applications that require IoT connectivity for a large number of network devices. CENGN has since used this technology in various projects to validate the technology of Canadian companies developing products and services in the IoT market. After successfully configuring the LoRa network, David showcased the work he had done to Karen McCrimmon, MP for Kanata-Carleton. In his demo, he showed sensor technology transmitting information such as temperature, humidity, CO2, and motion from the physical environment of the CENGN office to the LoRa gateway, where it was then displayed in real-time on a dashboard.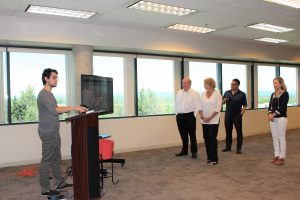 Like David, students working at CENGN are able to gain real-world experience in their fields of interest. At the beginning of their internship, our engineers participate in CENGN's Cloud Administration and Networking Certification (CANC) Program. The students are then challenged to pass the CANC Exam to demonstrate their thorough understanding and proficiency in working with the technology they have learned about in the CENGN boot camp. Once they have proved their excellence, the students begin working on CENGN's next-generation commercial grade infrastructure!
CENGN's training program aims to help students gain the skills necessary to become leaders in next-generation networking. We devote ourselves to nurturing future professionals so that growing Canadian companies and thriving large businesses, in the midst of a flourishing tech economy, can look to Canadian-grown talent to fill a rising number of positions. We do this by partnering with academic institutions so that students from across the country can partake in our mission to foster the development of today's graduates to become the networkers of tomorrow. CENGN would like to congratulate David on this accomplishment – we're proud to see him being recognized for the outstanding work he completed for us last summer!
If you are interested in hiring a recent CENGN intern like David, click here!
Hear more from David about his experience at CENGN!
[cherry_button text="Student Opportunities at CENGN" url="https://www.cengn.ca/service-view/academia-students/" style="default" centered="yes" fluid_position="right" icon_position="top" color="#828282″ min_width="80″ target="_self"][/cherry_button]
CENGN updates, in your inbox.