---
On October 2-3, CENGN travelled to Montreal to attend McGill University's Engineering and Technology Career Fair (TechFair) and provided an information session at Concordia University's career fair. Continuing in our search for top talent, our CENGNeers attended Carleton University's career fair today to meet with eager students. Each year, these fairs attract hundreds of students to help them discover opportunities for internships as well as potential full-time positions. CENGN is always on the lookout for top talent to fill our student positions, welcoming a new batch of co-ops and interns each semester from our academic partners.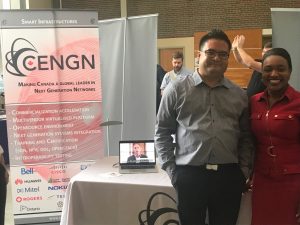 As CENGN is committed to developing our academic partnerships, we are excited to promote our student internship openings to the students of McGill, Concordia, and Carleton. Our academic partners help us to place approximately 40 new interns each year, each one receiving the training they need to succeed on the cutting edge of the ICT sector.
CENGN was represented at these events by our Director of Human Resources, Nathalie Guthrie, and one of our cloud infrastructure engineers, Moh Ahmed. Our team had a booth at the McGill TechFair and Carleton career fair. We also provided information sessions to students at both McGill and Concordia. CENGN was kept busy at the universities' information sessions, meeting the talent interested in learning more about CENGN, the latest trends in networking technology as well as our student internship program.
As part of our internship program, students begin their work term with bootcamp sessions to develop a foundation of skills and get training on our commercial grade next generation infrastructure that they will be using throughout their semester. By completing the bootcamp, our students get a thorough understanding of how to operate an OpenStack cloud deployment using Linux Foundation projects and leave with the experience they need to launch their careers in networking.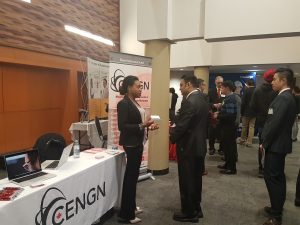 Our student program is an essential part of keeping with CENGN's mission. By training a new group of students each semester, we are increasing the amount of talent in the Canadian tech industry and ultimately driving up Canada's position as a global leader in next generation networking technology. By growing the professional talent pool in Canada, both large companies, like our members, and small and medium enterprises have the human resources necessary to grow their business within the country, keeping our ICT sector economically strong and in turn providing job prosperity for all.
CENGN is always looking for new students for our internship program to expand the number of professionals in the ICT sector. University info sessions and career fairs are an important aspect of our student program allowing us to impart our mission to the next generation of talented professionals and gauge their interest in supporting the Canadian networking industry and accelerating commercialization within the ICT sector.
We would like to thank McGill, Concordia, and Carleton for hosting fantastic events. Career fairs and info sessions help bridge the gap between academia and industry and they are always welcomed occasions at CENGN. We are looking forward to meeting more students at the next career fair and we will be thrilled to see more McGill, Concordia, and Carleton students at CENGN soon!
We are hosting several different events over the next couple of months. Learn where you can come meet us by visiting our event calendar!
[cherry_button text="Learn more about CENGN's student opportunities here" url="https://www.cengn.ca/service-view/academia-students/" style="default" size="large" centered="yes" fluid_position="right" icon_position="top" color="#ec2028″ min_width="80″ target="_blank"]Want to learn more about CENGN's student opportunities? Click here![/cherry_button]
CENGN updates, in your inbox.