---
CENGN spent three days at the Moscone Center in San Francisco joining in on conversations surrounding the key challenges and opportunities in the mobile industry!
It was a busy and exciting week for CENGN as we made our way from the Open Source Summit in Los Angeles to the 2017 Mobile World Congress Americas (MWCA). The event, which was hosted by the GSMA, brought together about 20,000 mobile operators, software companies, device makers, infrastructure providers, internet and media companies, government delegations as well as 1,000 exhibitors from North, Central and South America.
The MWCA debut follows the 2017 Mobile World Congress Barcelona, a global scale event which set the stage for a series of annual conferences, organized to promote discussions around the role of mobile technology in today's world. Zeroing in on the Americas, the Mobile World Congress Americas centered on the theme "the Tech Element", which highlighted some of the new opportunities that next generation technologies, like AI and 5G connectivity, are opening up in various sectors. CENGN's presence and contribution to these conversations were vital given our mission to support the commercialization of next generation networks in Canada.
Event activities for this year included keynote presentations by industry leaders, conferences, panel discussions, GSMA summits and seminars, exhibitions and networking sessions. These were categorized under six sub-themes which allowed attendees to sort through the agenda and build their own program lineup. Two themes that were of importance to CENGN were consumer Internet of Things (IoT) and networks because many small and medium enterprises (SMEs) undertake CENGN projects in these areas. Keynote presentations covered interesting content about upcoming developments in connectivity, network infrastructure and mobile networks in general. Other themes for the event were sustainable development, media, the fourth industrial revolution and everything policy.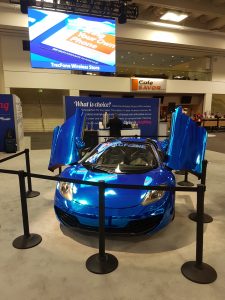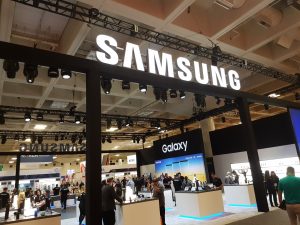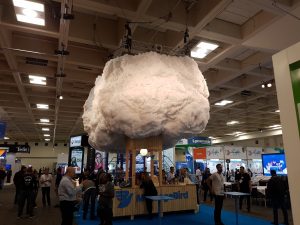 In the exhibition, more than 1,000 companies showed off their latest mobile technologies including Samsung, MessageBird and TracFone Wireless.
The three-day event also featured the Women4Tech Summit which focused on bridging the gender gap and increasing female participation in the mobile industry. Speakers from companies like Google, Adobe and Telefonica led discussions on integrating gender equality into work environments, sharing their own experiences and advice on how to empower women in mobile and other technological industries.
Representing CENGN at the event, Ritch Dusome, CEO and President, and Richard Waterhouse, VP Business Development and Marketing, took full advantage of the opportunity to interact with members of the mobile community and promote CENGN's services and Infrastructure.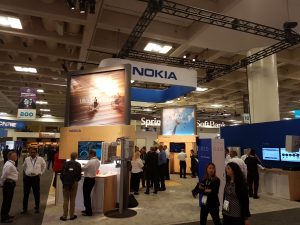 Also in attendance was CENGN member, Nokia, who had a booth to showcase the company's latest VR technologies. Using OZO, a virtual reality software, visitors could create a VR greeting to share with friends and family on Facebook.
The Mobile World Congress Americas provided an international platform for CENGN to gain exposure within the mobile industry across the Americas. Throughout the event, CENGN was able to promote our vision, build connections with leaders in the ecosystem and encourage them to get on board through memberships and partnerships. CENGN relies on industrial events like these to stay current in an ever-evolving ICT and tech sector. We always look forward to gaining more valuable insights which will be useful to the Canadian telecommunications industry!
Hats off to the GSMA for organizing another successful mobile event. We're excited to see the mobile industry evolve and contribute more towards creating a better future!
CENGN updates, in your inbox.