---
Yesterday, CENGN flew out to Nova Scotia for the Nova Communications Conference held at Doubletree by Hilton Halifax-Dartmouth.
This was a full day event, hosted by Nova Communications, to commemorate the company's 35th anniversary in the telecommunications industry. Nova Communications is Canada's number one online Motorola two-way radio dealer and the largest communications systems integrator in Eastern Canada. Since its inception, Nova has provided wireless and mobile communications solutions to customers across various sectors including construction, public safety, transportation, energy and manufacturing. To celebrate this milestone, the company brought together about 150 industry experts, government officials, and local business representatives to discuss developments in the industry as well as showcase emerging wireless technologies under the theme, 'Wireless: The Next Frontier'.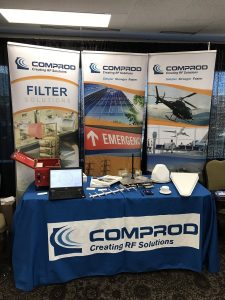 The day began with a networking session and vendor tradeshow which gave attendees the opportunity to interact and see the next generation of innovation sweeping the ICT industry. This was followed by a series of breakout sessions featuring key industry players including Tier 1 member, Cisco. The discussions covered a wide range of topics such as Internet of Things (IoT), Cloud, connectivity, and team communications. Speakers shared success stories highlighting how their solutions have helped improve performance, return on investment, and overall safety for their customers. This was particularly beneficial for the small and medium enterprises (SMEs) in attendance who got to hear about some of the expansion strategies adopted by industry leaders.
As a major proponent for innovation and commercialization of future networks, CENGN sent Richard Waterhouse, VP Business Development & Marketing, to deliver a presentation on next generation networking and mobile technology. During his session, Richard provided an outlook on Canada's place in the global ICT market and pinpointed certain steps that the country must take to remain relevant in that space. He took advantage of the opportunity to showcase CENGN's Infrastructure, share some of our past projects and invite local businesses to make use of our unique service offerings.
Nova culminated their 35th anniversary celebration with a cocktail reception during which they announced the launch of an innovative wireless project that will continue to build their presence on a national scale. It was amazing to see different industry stakeholders come together to celebrate the achievements of a significant contributor to the telecommunications industry. With one of our Board of Directors, Joe Hickey, presiding over the company as President & CEO, we know this is just the beginning of greater things to come.
Overall, the Nova Communications Conference did a brilliant job of creating an environment for idea sharing, collaboration and networking. It is always refreshing for CENGN to attend events which promote collective innovation and seek out the growth of the Canadian ICT industry. As the global tech sector continues to evolve, we can only achieve our vision of placing Canada at the top by working together. We look forward to engaging more with industry players at the Canadian ISP Summit in Toronto next week.
Congratulations again to Nova Communications for spearheading the development of cutting edge communications technology for more than three decades. We are excited to see what the future holds for the organization!
[cherry_button text="View other CENGN Events" url="https://www.cengn.ca/events/" style="default" icon_position="top" bg_color="#ffffff" color="#000000″ min_width="80″ target="_self"]Board of Directors [/cherry_button]
CENGN updates, in your inbox.