---
Published: October 20th, 2017
The CENGN team took the quick trip from Kanata Park to the Canadian Museum of Nature down town yesterday to enjoy a full day of presentations, demos and networking sessions at OpenStack Days Canada 2017.
OpenStack Days Canada is a non-profit event organized by the OpenStack Ottawa User Group and supported by the OpenStack Foundation. This event is held annually to discuss new technologies, generate interest in the evolution of OpenStack and its new projects, as well as expand the community of Cloud and OpenStack users in Ottawa. By creating an environment where those involved in OpenStack can share their ideas and latest works, OpenStack Days provides the platform's vendors and contributors with the tools to produce the best open source cloud software possible. This year, approximately 300 operators, IT experts, developers, service providers and professionals participated in sessions covering a variety of themes including Cloud Infrastructure and Platforms, Big Data and Analytics, DevOps, Internet of Things, and Architecture & Security.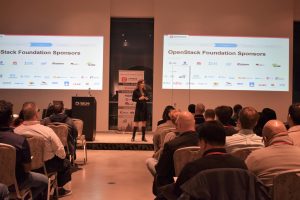 The event kicked off at 8am with a breakfast hour which gave attendees the chance to network and build connections. During the opening keynote, Heidi Bretz, Director of Business Development of the OpenStack Foundation, highlighted the foundation's motto, "Collaborate or Die". According to her, what makes OpenStack and Open Source unique is the fact that users come together to build exactly what they need. She closed off by inviting the audience to next year's OpenStack Summit which will take place from May 21st to May 24th in Vancouver.
Throughout the morning, there were a series of keynotes including member, Nokia, and Breqwatr who are currently executing a CENGN project. To learn more about Breqwatr's project with CENGN click here!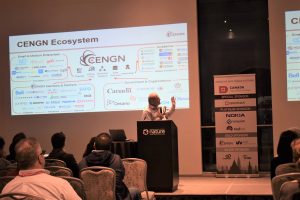 The highlight of the event for CENGN was when our very own President and CEO, Ritch Dusome, took the stage to deliver a keynote on the importance of open source in next generation networks and CENGN's role in facilitating Canada's leadership in the global ICT industry. In his presentation, he noted the fast rate at which Open Source is developing and emphasized Linux's position as one of the most widely adopted operating software across the globe. Ritch took the opportunity to inform the audience about plans to expand CENGN's Infrastructure across Ontario, as well as CENGN's goal to create an open broadband architecture for the development of Smart City services and projects.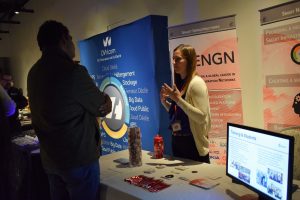 In between presentations, attendees visited company stands, interacted with representatives and saw demos of new projects in OpenStack. CENGN also had a booth to showcase our past projects as well as new service offerings to SMEs including the deployment of Wind River's Titanium Edge on our infrastructure and LoRaWAN based LPWAN validation service.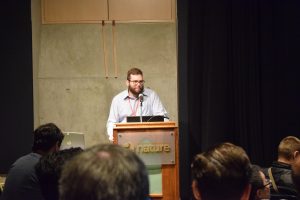 In the afternoon, CENGN took to the podium a second time to give a technical demonstration of running OpenStack on Kubernetes with OpenStack-Helm. This demo was delivered by Cloud Infrastructure Engineer, Raymond Maika, who is set to present at the upcoming Ottawa Open Source Networking Meetup and Kubernetes Meetup. We were also thrilled to see Mark Beierl of OPNFV, present on the StorPerf project, a project that involved one of our CENGN-OPNFV students last summer.
The day ended on a high note with a panel hosted by another CENGN project alumni CloudOps, followed by a happy hour session to close the event with Canada's famous poutine and beer! Check out the CloudOps-CENGN project here.

Since its inception, CENGN has been working with industry associations like OpenStack to promote the development of OpenStack technologies and encourage collaboration among members of the open source community. We have partnered with Wind River, Juniper Networks, and CloudOps to host three OpenStack meetups and are continuing to grow the community in Ottawa. Read about our last OpenStack meetup here. CENGN strongly supports events like these which allow members of the tech community to come together in person and share their expertise in Open Source.
Congratulations to the OpenStack Foundation and OpenStack Ottawa User Group for putting together a very successful OpenStack Days Canada event. We look forward to seeing everyone at our various meetups planned out over the next few months, including the Ottawa Open Source Networking Meetup at Bayview Yards next week.
Click here to join the OpenStack Meetup Group!
Click here to register for the Ottawa Open Source Networking Meetup!
Click here to join the Kubernetes Meetup Group!
[cherry_button text="View other CENGN Events" url="https://www.cengn.ca/events/" style="default" icon_position="top" bg_color="#ffffff" color="#000000″ min_width="80″ target="_self"]Board of Directors [/cherry_button]
CENGN updates, in your inbox.