---
From December 4th to 8th, CENGN attended the fourth OPNFV Plugfest at the Intel Jones Farm Conference Center in Hillsboro, Oregon.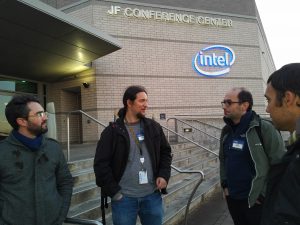 Twice every year, OPNFV Plugfest gathers OPNFV contributors together to collaborate in person on the various projects OPNFV has on the go. The OPNFV community is made up of the most talented people in open source networking, including project technical leads, software developers, service providers and vendors, who work together to solve the most difficult challenges facing network functions virtualization (NFV). Plugfest is organized by the Linux Foundation to discuss some of the latest developments in the OPNFV project. In the past, Plugfest attendees have been treated to amazing venues in the US and France. This time, the event was held at the facilities of OPNFV member company, Intel. The conference consisted of several presentations, demos and hackathons to explore OPNFV's fifth platform release, Euphrates, improve the OPNFV platform, as well as try new scenarios and test cases. Other themes that were touched on include Kubernetes and container integration.
Given our longstanding relationship with OPNFV, CENGN was happy to attend and contribute our expertise in project testing, tackling some of the operational challenges of the platform. On behalf of the company, CENGN Senior Tech Lead and OPNFV contributor, Dave Urschatz, spent the week working on projects to provide CENGN hardware, support and end user testing to OPNFV XCI developers, as well as working with stable OpenStack vPOD deployments for CENGN's upcoming January student boot camp. Dave also participated in event sessions, with topics like deploying ONAP with OPNFV-XCI, OpenDaylight and OVS-DPDK containers on XCI.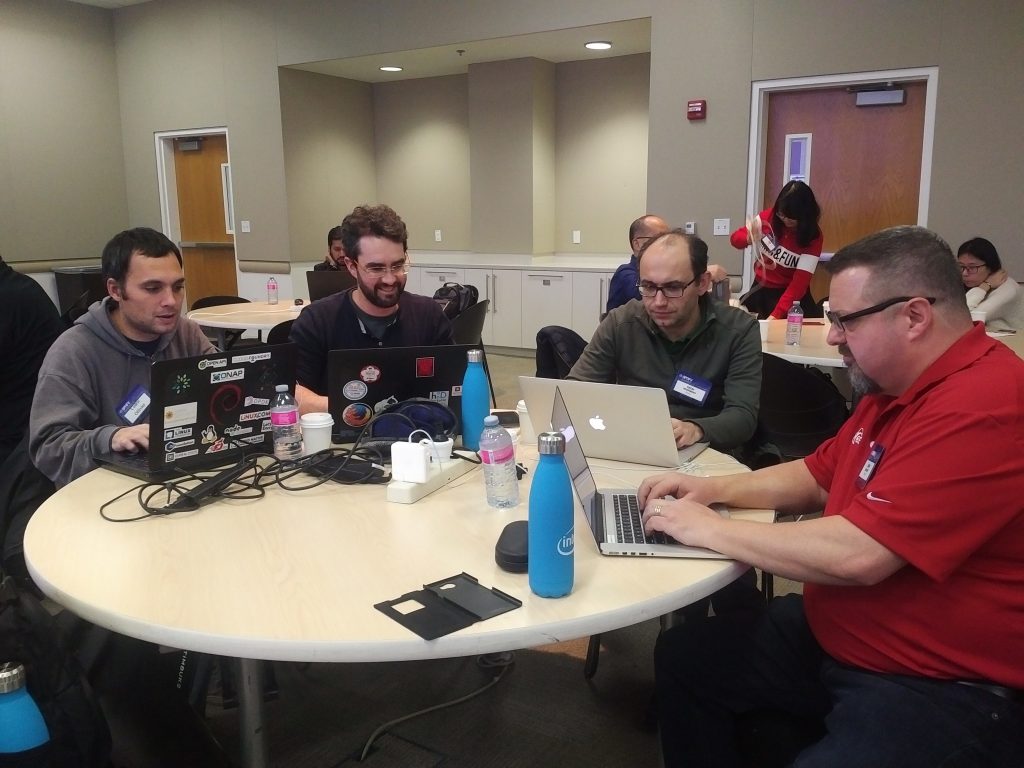 Since its introduction in 2014, the Open Platform for Network Functions Virtualization (OPNFV) has facilitated the development and evolution of NFV components across various open source ecosystems. This multi-collaborative project has expanded its reach over the years and raked up many achievements including the five platform releases as well as the growth of a developer community that numbers in the hundreds. It is gatherings like Plugfest that help members of the community stay connected and remain committed to the project's vision. This is on top of the other events hosted by OPNFV, including the OPNFV Summit, Open Source Networking Meetups and Open Source Networking Days.
We had a great time collaborating and networking with technology experts and enthusiasts during Plugfest. We were particularly thrilled to hear that the CENGN Summit 2017, which took place that same week, was being closely followed by Plugfest attendees. As a strong advocate for knowledge sharing and collective effort in the networking industry, CENGN loves participating in initiatives which unite industry stakeholders and consolidate efforts to advance the ICT ecosystem in Canada and across the globe. Moreover, since CENGN joined as the first associate member of OPNFV, we have had the pleasure of taking part on various projects including Fast Data Stacks, JOID, and Storperf. Our partnership with the community has also been beneficial to CENGN students and small and medium enterprises (SMEs) who have the opportunity to leverage Canada's only OPNFV Pharos Lab hosted in our Infrastructure.
A massive congratulations to OPNFV and Intel for hosting another productive Plugfest. We look forward to many more exciting events in the coming year!
To join the local Open Source Networking Community, join our Meetup Group by clicking here!
[cherry_button text="View other CENGN Events" url="https://www.cengn.ca/events/" style="default" icon_position="top" bg_color="#ffffff" color="#000000″ min_width="80″ target="_self"]Board of Directors [/cherry_button]
CENGN updates, in your inbox.