---
On March 28th, CENGN attended Kanata North BIA's Discover TechNata event that took place at the heart of Ottawa's technology hub.
Discover Technata is a one day event, that features technology firms within the Kanata area and focuses on facilitating networking between community members and industry professionals looking for new job opportunities. The event also functions as a great highlight of the overall growth of Ottawa's tech sector, and is a platform for organizations to demonstrate their latest work in the technology sector.
With an attendance of over 3,000 participants, the Brookstreet hotel ballroom was filled with exhibitions from both small and large companies. Each exhibitor showcased their unique company culture and current opportunities! The exhibitions were a great way to introduce new potential employees to the Kanata North ecosystem, and to meet other surrounding companies.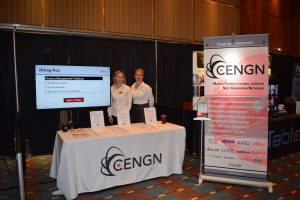 CENGN spoke with an amazing number of talented professionals and job seekers at Technata, including: students, employers, government officials, and the general public, who attended Discover Technata to learn what is happening in ICT sector so close to home. We were proud to display our new collection of career opportunities to the attendees and were ecstatic to see so much enthusiasm coming from Canada's capital. It is clear that the Ottawa tech sector is not only alive and well, but is thriving and truly taking off as we hit new grounds in network engineering and Internet of Things and Open source.
CENGN's mission is to ensure that Canada continues to be a global leader in the commercialization of the technologies. With the enthusiasm seen at events like Technata and other job and startup fairs in the country, Canada is primed to help us follow through on this mission. Through our growth and accomplishments within the industry, as well as our increase in job creation, CENGN has been off to a great start. But our journey to develop talent and attract new investment to the country is just beginning!
Almost the entire CENGN team attended the event, taking turns to mingle with the crowd, each bringing their own insight and flavor to the table. Kanata North's Discover Technata event gave CENGN the chance to learn much more about what is being offered in from other neighboring companies, and was a great opportunity to get CENGN's name out!
Thank you to Kanata North BIA and Brookstreet Hotel for hosting an incredible networking event, and for all the companies and attendees who made the event such a success!
---
To see more blogs, click here!
To see what other events CENGN is going to, click here!
CENGN updates, in your inbox.