---
Published: February 13, 2018
The recent trend of open source in the global tech world has begun to shift the paradigm of the ICT industry; long gone are the days of inaccessible and proprietary code. The growing importance of open source has paved the way for cooperative innovation, allowing for anyone with access to an application to build upon and customize the source code. Following the open source movement, the OPNFV platform project was created to accelerate the development of NFV components across various open source communities by offering a reference NFVi platform.
OPNFV is an industry associate of CENGN that has a great presence in our lab, where we employ OPNFV's open source infrastructure, including the OPNFV Pharos lab. The lab runs different cloud environments and provides performance measurement capabilities and effective NFV testing. The lab also aims to ensure OPNFV applicability and interoperability across architectures, environments, and vendors. We offer access to technologies like the Pharos lab to small and medium businesses (SMEs) so they may utilize leading-edge test resources to validate their latest innovations.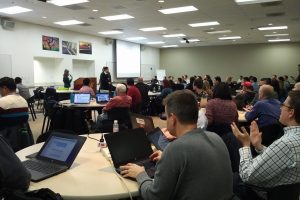 Last week, OPNFV launched their OPNFV Verified Program (OVP), which is used to help simplify the implementation of commercial NFV products. The OVP allows for the commercialization of a vendor's product to be done more simply and in a shorter timeframe by testing the vendor's product for its ability to comply with OPNFV standards for NFVi and VIMs. Once this is done, the testing company will receive the OVP logo, signifying that their commercial product successfully held up to OPNFV standards.
CENGN members Huawei, Nokia, and Wind River were three of the four companies to receive OPNFV Verification on the launch of the program. Huawei and Nokia are both being congratulated for their hard work collaborating on the OVP with OPNFV and having their technology verified, Huawei for their Cloud NFVi solution and Nokia for their AirFrame data center solution.
Wind River received verification after having successfully tested the compliancy of their Titanium Cloud package solution with the open source industry standards set by the OPNFV. This is an achievement of big significance for CENGN, as Wind River's Titanium Edge has been integrated into our infrastructure, available to any SME looking to do a project.
The Titanium Edge is part of the Titanium Cloud, and is a high performance and high availability Infrastructure as a Service (IaaS) cloud hosting environment. With Titanium Edge, our infrastructure offers highly reliable hosting for projects with any Canadian small business where outages and failures must be mitigated at all cost. Now OPNFV certified, Wind River's Titanium Edge solution will continue to be an asset to our infrastructure and services, and to all who make use of the technology.
In fact, the Titanium Edge has already been a part of a few projects at CENGN, including two recent collaborations with the growing Canadian business, CloudOps. In their first project, Wind River's Titanium Edge was deployed on CENGN's cloud infrastructure and was then tested for the possibility of integrating CloudOps' CloudMC into their Titanium Edge package. The second Wind River and CloudOps project focused on the successful integration of CloudMC with Titanium Edge.
But Wind River's leadership and work with CENGN goes beyond our projects; they are also a sponsor for the CENGN Summit, where they spoke on two panels: once in 2016 on Open Networking in Canada, and once during the 2017 Summit on Driving Open Cloud Innovation in Canada.
CENGN is happy to be a part of the OPNFV ecosystem and an ambassador of the OPNFV mission in Canada. By giving SMEs the opportunity to work on state-of-the-art technology such as the OPNFV Pharos Lab and OPNFV verified technology, we are able to aid growing Canadian businesses with authenticating their innovative solutions, facilitating rapid growth in the Canadian ICT sector. With the help of members and partners like OPNFV and Wind River, we will accelerate the Canadian economy and bring about the next generation of networking.
We would also like to extend our congratulations to Huawei, Nokia, and Wind River on successfully completing their OVP assessment and achieving OPNFV Verified status!
To learn more on our Members' Verified products and services, visit the press releases below:
Huawei: Huawei Among First NFVi Vendors to Pass OVP Certification
Nokia: Adopting NFV Just Got Easier! Introducing OPNFV Verification Program
Wind River: Proud to be Part of the First Wave of OPNFV Verified Solutions
To learn more about the OPNFV Verification Program, check out OPNFV's webpage:
[cherry_button text="OPNFV Verification Program" url="https://www.opnfv.org/verified" style="default" icon_position="top" bg_color="#ffffff" color="#000000″ min_width="80″ target="_self"] [/cherry_button]
CENGN updates, in your inbox.