---
The first batch of students CENGN took on in 2021 is preparing to take off on their next ventures. This year's opening group of students brought a ray of virtual sunshine to CENGN's company culture and ample brainpower to all teams in the organization.
With us this semester, we had:
These bright academics joined CENGN from the University of Ottawa, Algonquin College, Willis College, Carleton, and Lambton College.
Each student brought considerable amounts of effort and excellence to each team.
Infrastructure
Tyson Moyes had his controls dug into an essential tool, JumpCloud, increasing security for all employees at CENGN.
"Having worked in a few different places in a few different positions, CENGN's 2-week CCSS Boot Camp was the best on-boarding process I've ever experienced," Tyson reflected on his experience and smooth transition into the CENGN workspace.
Interested in developing your cloud skills? Head here to learn more about the now fully virtual CENGN Cloud System Specialist Certification.
Daphne Chu, who excels in computer programming, spent her placement focused on our Python platform. Used as a scripting language for many systems within CENGN, Daphne spent her time improving the onboarding process for new engineers while keeping everything up-to-date and secure.
"I now believe that applying to work at CENGN was one of my best instinctive decisions as a start to my journey in Canada, and to have my first technical job towards my new direction in life," Daphne commented on her newfound path through CENGN.
Over on the security front, Oluchi Jonathan, Cyber Security Analyst, worked hard on improving desktop usage and securing connections to access certain information within the organization, amongst countless other achievements.
The three students brought their best effort to shoot forward the productivity on the technical team.
Solutions Engineering
This being their second work term with CENGN, familiar faces Jiayang Liu and Sahil Rahi continued to work on setting up servers and software for essential projects. Continuously helping Canada's most innovative tech businesses and reporting on their success and project results, the two were vital players in each task's workflow on the solutions engineering team.
Human Resources
HR Specialist Student, Fuhui Ying, is extending her placement through the summer, where she will continue to assist the HR team with essential tasks.
"Working for CENGN is not only an experience that shows up on my resume but also an important lesson I take in my early career stage. The high sense of responsibility, strong determination to succeed, and positive work attitude that I learnt from my coworkers at CENGN will benefit me with a lifelong impact on my future career," says Fuhui of her time at CENGN.
The HR team looks forward to having Fuhui's continued support in the virtual workspace.
Marketing
Over on the Marketing Team, Amy Truong flourished. She created countless graphics, learned the ins and outs of digital marketing, and created high-quality video content to promote CENGN's brand and services. Amy noted, "Working at CENGN allowed me to grow as a designer, and I had a great experience creating graphic illustrations and videos throughout the term. Thank you to everyone on the CENGN team for providing support and allowing me to make valuable contributions to the organization."
Click here to check out Amy's most recent video on the Digital Divide in Rural Canada and how CENGN works to bridge the gap!
Content Writer Marketing Student Anja Nell received an inside look at best search engine optimization practices, content marketing strategies, and social media marketing techniques.
"CENGN has allowed me to grow exponentially as a writer through creating multiple leadership articles, content for countless project companies, and expanding my knowledge as a marketing professional. Here at CENGN, everyone is on your team pushing you to achieve more and reach new heights in your career," she said about her co-op experience.
Training
Over the past few years, CENGN has made milestone movements with CENGN Academy, and Alois Clerc carried out his placement, working closely with Peter Heath on the Training Programs team. Working on innovative strategies, developing programs, and assessing development, Alois gained the skills he needs to assist him in his future career path.
Although navigating through the virtual workspace has been a challenge for all Canadians, this year's fresh batch of CENGN students brought their A-game this semester.
The CENGN student program is designed to complement post-secondary students' academic learning with the skills and knowledge needed to be worker-ready in the most technical and cutting-edge companies.
Interested in hiring a CENGN student?
Click here for more information!
The CENGN Effect
CENGN takes pride in onboarding driven, bright-minded students and relying on them to do real work that impacts innovation and growth in Canada.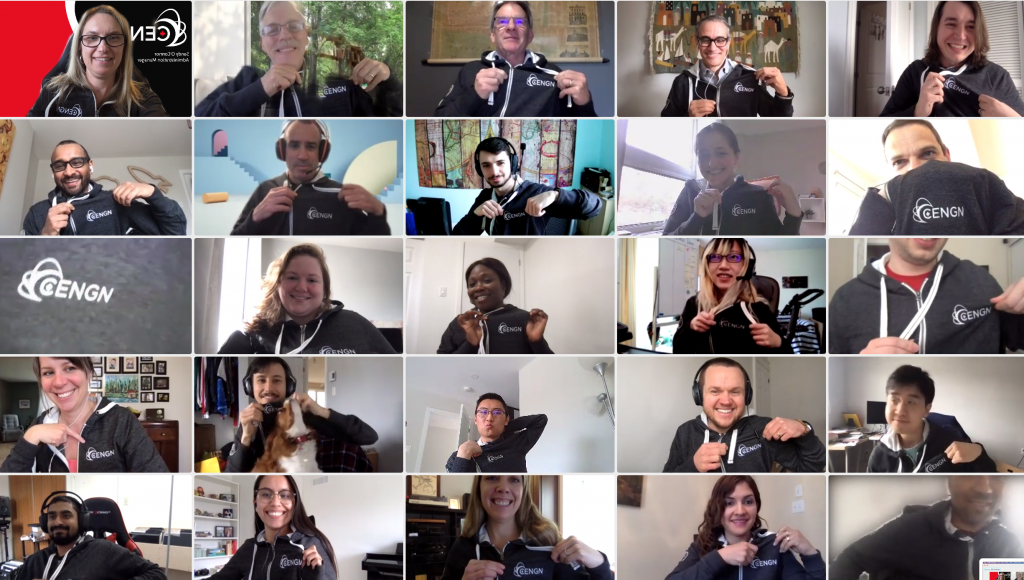 Each student had the opportunity to work with and form connections with leaders in the industry, gain transformative work experience and receive support from mentors and managers with years of valuable experience.
Looking into the future, everyone at the CENGN team will be happily watching as their next group of student alumni contribute to Canada's future economy and technical field.
Thinking of joining CENGN as a student? Click the button below to learn more about CENGN internships.
CENGN updates, in your inbox.