---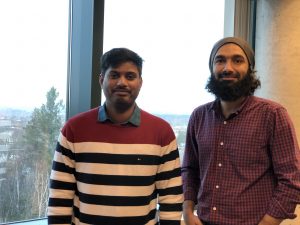 This term, two of our talented students had the opportunity to work and experiment with Graphic Network Simulator-3 (GNS3) in order to up CENGN's service offerings. GNS3 is an open source network software emulator that allows for the combination of virtual and real devices to be used to simulate complex networks. It uses Dynamips emulation software to simulate Cisco IOS.
These two interns, Zain ul Abdin and Abdul Aleem Syed, are engineering students from University of Victoria and have just finished their co-op term at CENGN as Cloud Service Engineers. Abdul began this endeavour in September and Zain joined him in November. Together, they were able to combine their research and scale testing on GNS3 deployments to impact CENGN in a big way.
CENGN provides Canadian small and medium enterprises (SMEs) with the opportunity to collaborate with us and take advantage of our multi-vendor infrastructure in order to test their projects and remove any commercial barriers, accelerating product introduction, as well as reducing product development time and costs. CENGN accepts a wide variety of project areas such as SDN/NFV/SD-WAN, Internet of Things (IoT), Data Centre/Cloud, Security Mobile Networks, Network Transport, and Network Applications.
In the Fall, CENGN Project alumni, Solana Networks, reached out to our organization requiring a test environment that simulates over 2000 routers, to scale test their SmartHawk solution. This number of requested routers in one network environment is extremely large by GNS3 standards and has never been successfully carried out on a commercial grade infrastructure.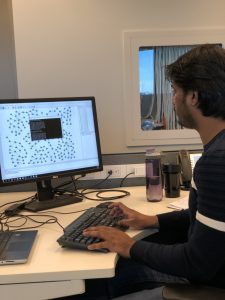 It was obvious that our students had their work cut out for them. They took up the challenge and began a project with the objective of establishing the scaling characteristics of GNS3 with up to 200 OSPF configured routers. The engineers began the project by evaluating GNS3, testing the ability to emulate networks in a beneficial matter, provide solutions for possible issues that could occur during exploitation, and finally writing instructions for future use.
During their research, the engineers troubleshooted topology overviews, going through a multitude of tested topologies in order to find what works within different resource constraints. In the end, Zain and Abdul successfully cracked the code to a set methodology for scaling up GNS3. The project concluded with a final statement of approximately 600-800 simulated routers being achievable with the GNS3 Server running on a UCS C240 server. Within our CENGN Infrastructure, the students were able to create the methodology, so that GNS3 was able to comfortably handle ~200 OSPF configured routers. With this, GNS3 proved capable of being a powerful tool for network emulation.
This success has enabled CENGN to create an environment with thousands of simulated routers. This will allow CENGN to provide large-scale environments for testing network applications. We are excited to be using this large-scale test environment for our upcoming project with Solana SmartHawk. A tool that had its original functionality tested at CENGN a year ago. Read more about SmartHawk project one here! Looking forward, CENGN will also be able to use this large environment for any SMEs that are looking to test their networking solution on scale networks.
If you would like to become a student at CENGN and experience working on amazing projects such as GNS3, click here!
Interested in testing or validating your company's product on our commercial grade infrastructure? Click the button below!
[cherry_button text="Submit a Project" url="https://www.cengn.ca/projects/" style="default" centered="yes" color="#0a0a0a" target="_self"]
CENGN updates, in your inbox.