---
Published: May 10th, 2017
One of CENGN's main goals in the information and telecommunications ecosystem is to facilitate the commercialization of small and medium sized enterprises (SMEs) in Canada. CENGN provides SMEs with the resources to commercialize their innovative products. This is done through highly customized validation projects in the areas of SDN, NFV, SD WAN, IoT/smart city applications, data centre/cloud, network transport, security, network applications, and network mobility.
The SMATS Traffic Signal Optimization Solution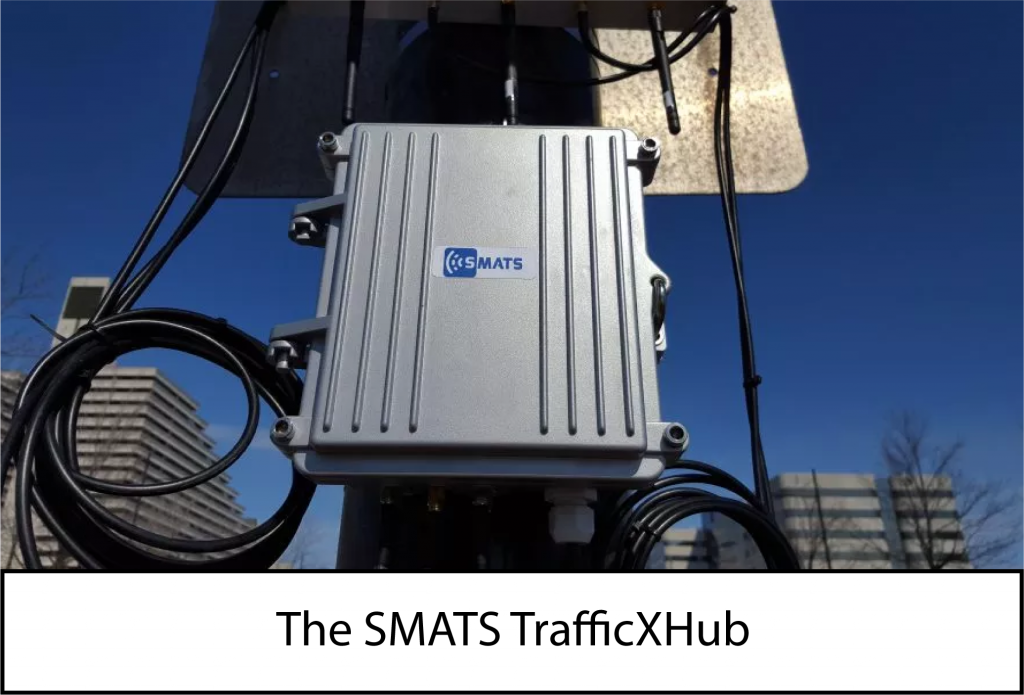 CENGN's recent work with Ottawa based tech startup SMATS is an example of validating an Internet of Things (IoT), smart city application. The SMATS Smart Traffic Solution provides hardware sensors and software platforms to monitor and analyze traffic movement. Bluetooth and Wi-Fi signals are used to record time-stamped data through TrafficXHubs, a MAC sniffer sensor technology developed by SMATS. This data is then sent to a centralized cloud server where it can be analyzed to help cities more effectively measure and predict travel times, origin-destination data, and intersection performance.
SMATS integrates analytics and sensory tools to give service providers a means to improve infrastructure monitoring and make informed decisions on efficient service management. Used correctly, the information provided by the SMATS solution will reduce operating costs as well as waiting and travel times.
CENGN's Lab Validates the Solution
For many SMEs, a lack of technical resources is a major barrier to business development. CENGN tries to alleviate these barriers through services from business support to engineering expertise to infrastructure services. CENGN was happy to offer SMATS the infrastructure and technical support needed to advance the smart traffic solution.
To validate the SMATS traffic signal optimization solution, the project had to measure the efficiency of routing data traffic in terms of data volume and transfer speed. The two major challenges that SMATS faced was connecting through a secure and encrypted virtual private network (VPN) and validating the scalability of the solution. The CENGN lab conducted evaluations for both challenges, using a testbed composed of 20 virtual TrafficXHub sensors located in the CENGN cloud platform and two physical TrafficXHub sensors. The results were great; the connectivity was strong and data communication was found to be reliable and secure.
CENGN's testing and evaluation delivered validation through solid, quantitative results to help advance SMATS' road to the market. With CENGN's criteria passed and the solution validated, SMATS was able to use the testing results to advance the security, scalability, and accessibility of their TrafficXHub sensors.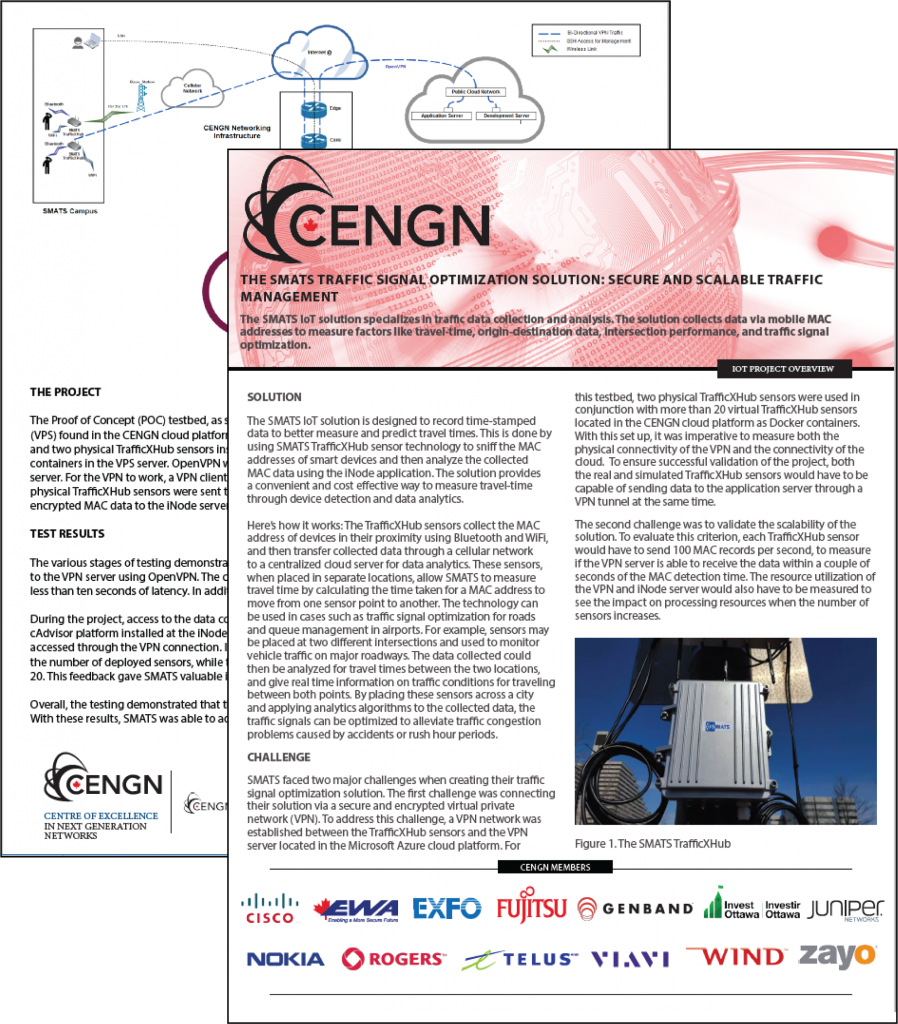 SMATS and Smart Cities
Smart infrastructures integrate information and communication technology, including IoT, to create more efficient operations throughout our lives. The SMATS IoT traffic solution has the potential to reduce costs for service providers, and just as importantly, the solution can contribute to the future of smart cities. By collecting and analyzing traffic data, SMATS technology provides accurate, real-time information to improve traffic light optimization, waiting time, environmental friendliness, and effective energy use. Innovative technologies like the SMATS traffic solution are what the future of smart cities are all about.
CENGN is dedicated to working with companies like SMATS, whose solutions and products can help create a smarter and more energy efficient world. We look forward to seeing SMATS grow and continue on their path of success!
[cherry_button text="Learn More About SMATS" url="https://www.cengn.ca/companies-smats/" style="default" fluid_position="right" icon_position="top" color="#828282″ min_width="80″ target="_self"][/cherry_button] [cherry_button text="Submit Your Project Here" url="https://www.cengn.ca/projects/" style="default" fluid_position="right" icon_position="top" color="#828282″ min_width="80″ target="_self"][/cherry_button]
[cherry_button text="View More Projects" url="https://www.cengn.ca/service-view/past-projects/" style="default" fluid_position="right" icon_position="top" color="#828282″ min_width="80″ target="_self"][/cherry_button]
CENGN updates, in your inbox.