---
Published: June 20, 2018
Last week, CENGN attended the Sudbury Mining Forum, which brought together mining companies and professionals to discuss the future of the world's mining industry. The two-day event featured sessions on autonomous mining, interoperability and related uses of artificial intelligence and transformative technologies. Speakers from various organizations, including the Centre for Excellence in Mining Innovation and the Global Mining Standards and Guidelines Group, presented on strategies that will help propel the industry forward. This was a timely event, as CENGN is going to become a lot more involved in the mining space. Let's take a glimpse into where we fit in!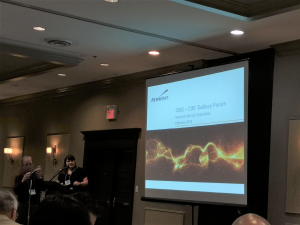 CENGN's relationship to smart mining stems from our overall mission to support the innovative products and solutions developed by Canadian small and medium sized enterprises. We offer our multi-vendor platform so that growing Canadian companies can test the functionality of their ideas on a commercial level. Our testbed and infrastructure services act as a business accelerator, enabling companies to move one huge step closer to the global market space. Companies looking to leverage our services can select between a wide variety of projects areas. Our past projects have involved networking solutions of all types, including anything from network function virtualization to network applications. We also specialize in helping companies develop IoT solutions and advancements in cloud. Pushing forward innovation in these networking technologies will show direct benefits to resource-based and rural sectors, like mining and agriculture.
In fact, CENGN's ties with the mining sectors of Ontario have continued to strengthen since January of this year, when the Government of Ontario announced the Next Generation Network Program (NGNP). According to the program, NGNP will focus on the importance of the smart mining and agricultural industries in the Ontario economy. This initiative recognizes the extent to which a CENGN project can be leveraged toward developing and implementing new technology into the sector. Funding from the program will enable companies based on mining solutions to access the CENGN Testbed and validate their products, which could include anything from sensors and devices that control machinery operating in unsafe or difficult environments to better cloud storage for remote locations.
This sector has a lot to benefit from the use of CENGN's infrastructure services to validate their ideas. As a key contributor to the Ontario economy, the multi-billion-dollar industry directly employs more than 16,000 people, creating a total of over 78,000 jobs within the province. At the forum we learned about the different facets that contribute to the industry's average annual revenue of $10 billion. It is not hard to see how CENGN will fit into the acceleration of this sector. In fact, we have already branched out into comparable fields, like smart agriculture, where many of the same innovative strides have taken place.
For example, agricultural technology company, Ukko Agro, leveraged CENGN's services to validate the functionality of their smart agriculture IoT solution. With the goal of preventing pest and disease outbreaks on farmland, the company developed a Pest Prediction Model. Their solution is designed to collect data from on-site sensors and recommend optimal pesticide usage based on the results. Their project passed all connectivity tests and received CENGN's stamp of approval for a reliable IoT solution.
To learn more about Ukko Agro's Pest Prediction Model and their project at CENGN, click here!
Not only did Ukko Agro benefit from the use of our infrastructure to push their solution to market: this increase in innovation also provides a leg-up for the Ontario agriculture sector over its competitors. The sector will now be able to utilize this innovative technology to continually advance all aspects of their practice. This is just one example of a targeted solution benefiting a sector that was previously not connected to next generation networks. Whether it be in smart agriculture, cybersecurity, or data storage, we are confident that innovations like this can play an unprecedented role in the evolution of any industry.
Like smart agriculture, smart mining can benefit from the use of networking technology to optimize output while reducing costs. Networking technology will allow real-time data to be relayed to other systems, ensuring improved safety and a decrease in waste and cost, making for a more efficient mining sector for the province. CENGN firmly believes that, through technology, Ontario can have a stronger economy across all sectors, allowing for more opportunity for Ontarian citizens and a better ecosystem for business to thrive.
We would like to thank the experts and industry members that participated in last week's forum for sharing the challenges and opportunities that the mining industry is currently facing. The technologies discussed at the forum brought light to the endless possibilities of this important sector, and reinforced CENGN's excitement to contribute to one of the most thriving industries in the province's economy.
To stay up-to-date on CENGN's upcoming events, click the button below:
[cherry_button text="Events Calendar" url="https://www.cengn.ca/events/" style="default" centered="yes" fluid_position="right" icon_position="top" color="#000000″ min_width="80″ target="_self"][/cherry_button]
CENGN updates, in your inbox.