---
Yesterday, CENGN attended Carleton University's Fall job fair on the university campus.
Over the years, Carleton University has hosted companies from various industries during their termly career fair, which gives students the opportunity to meet and interact with potential employers. As an academic partner of CENGN, Carleton has provided us with many outstanding student interns, some of which have gone on to become full time employees of CENGN! We were therefore eager to attend and promote CENGN's student program to another group of young talent.
A major component of CENGN's mission is to train the next generation of innovators for the ICT industry. To achieve this, each year, we hire about forty co-op students and interns who get immersed in the day-to-day operations of our Engineering, Marketing, Finance and Administration departments. With a dedicated team of mentors and advisers, students are nurtured to transition easily into their future careers.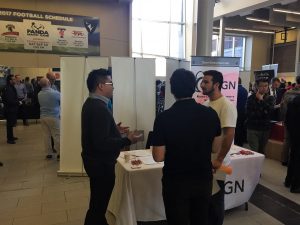 Three members of our student programs team represented CENGN at this semester's fair, namely Nathalie Guthrie, HR & Recruiting Manager, Randy Elias, Program Manager, and Loli Morales, Administration Specialist. During the event, CENGN had a booth to showcase our winter and summer job positions, and discuss student expectations for their co-ops, internships and future employment. Nathalie, Randy and Loli engaged with hundreds of students, answered questions and provided some career guidance particularly for students looking to work in ICT and tech.
The Fall Career Fair is Carleton's biggest fair of the year. Once again, several companies including CENGN members, Cisco, Nokia, Ribbon Communications, and affiliate member, Cenx, were in attendance. New graduates and students showed up in great numbers to make the event successful. Overall, we were very impressed with the turnout at the event.
As a consortium of member organizations and academia, we would like to commend Carleton University for continuously organizing these job fairs which help bridge the gap between academia and industry. Carleton has been a supporter of CENGN and our mission since inception. They were a sponsor of last year's CENGN Summit and even participated on our panel discussion about Open Networking in Canada. Click here to see panel video. We cannot forget to say kudos to the students who continued to impress us with their motivation and intellectual interactions. The CENGN team will be thrilled to see some familiar faces when the next batch of students come in!
To learn more information about CENGN's student opportunities, Click Here!
[cherry_button text="View other CENGN Events" url="https://www.cengn.ca/events/" style="default" icon_position="top" bg_color="#ffffff" color="#000000″ min_width="80″ target="_self"]Board of Directors [/cherry_button]
CENGN updates, in your inbox.