---
Published: June 21st, 2017
CENGN attended and supported the OPNFV Summit in Beijing, China from June 12th-15th 2017 as an industry associate member!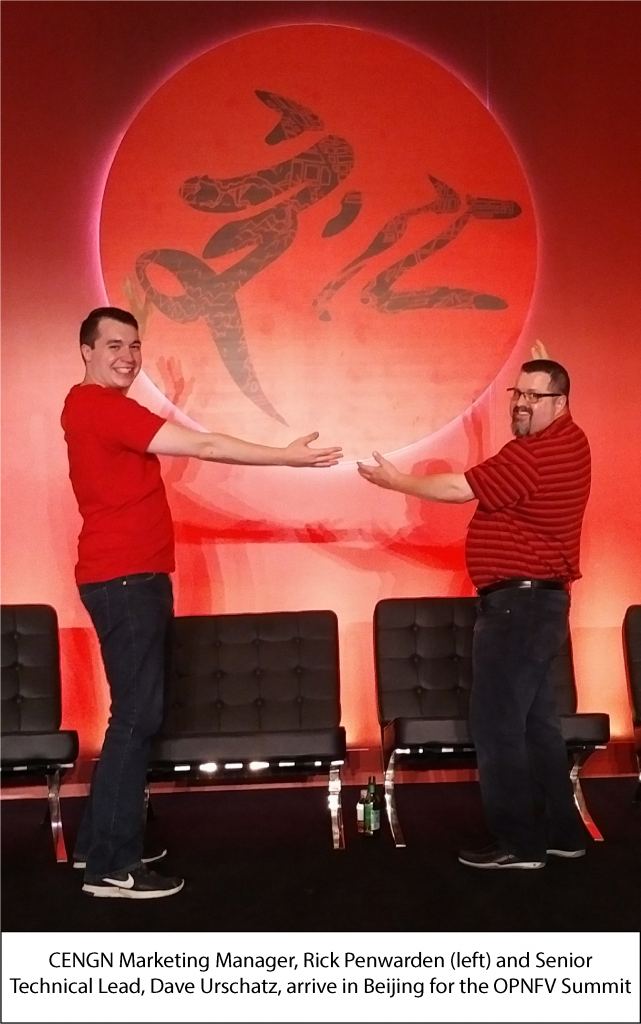 Over 550 industry members from all over the world joined OPNFV at the JW Marriott hotel in Beijing to participate in conferences and mini-summits, and to learn about the latest and greatest in open source technology. The event encompassed all involved in network function virtualization (NFV), including software and app developers, network architects and engineers, students, media and analysts.
OPNFV's annual summit is an amazing opportunity for industry leaders to network, learn, and share ideas in an open environment of innovation; paving the path for IoT, 5G and smart city development. CENGN was excited to attend the event to discover the latest trend in open source networking, present Canadian talent, and network with the world's top leaders in NFV.
Within the OPNFV Summit, several mini-summits were held, highlighting various open source networking groups, including ONAP, OpenStack, OpenDaylight, and FD.io! OPNFV Summit also showcased the best in cloud infrastructure, and SDN/NFV technology in dozens of keynotes and collaboration sessions.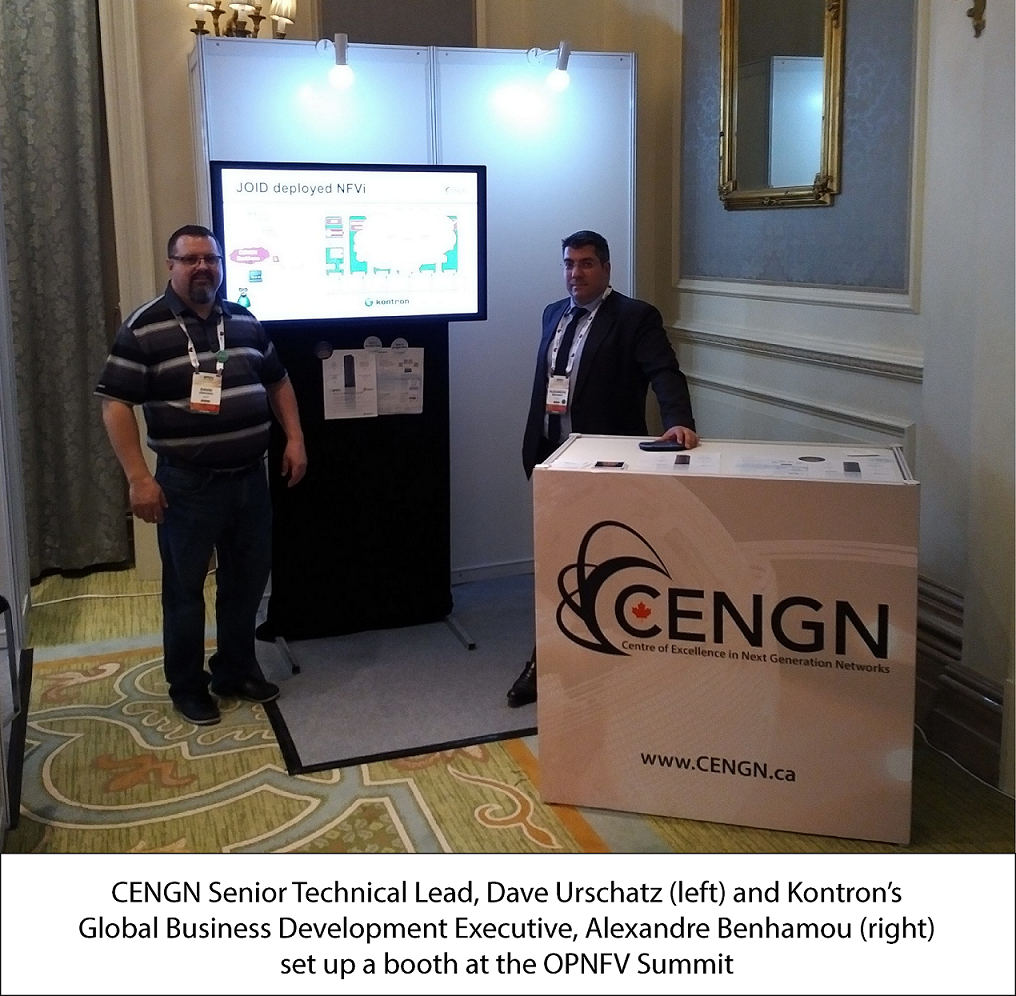 From CENGN, Rick Penwarden, Marketing Manager, and Dave Urschatz, Senior Technical Lead, both travelled to Beijing to attend the highly successful OPNFV summit and take advantage of all the amazing open source opportunities that were offered at the event. During the three days, CENGN attended the Huawei Design Summit, Women and Allies' Reception, keynote speaker presentations, and more!
CENGN also had an awesome booth at OPNFV's technology showcase! Alongside Alexander Benhamou, Senior Manager, Business Devel oper and Consultant at Kontron, Dave Urschatz presented a demo of OPNFV's reference platform 'Danube' and containerized vIMS using Kubernetes! Learn more about this demo and collaboration here.
CENGN also got the chance to network with fellow industry members, and hear OPNFV's Brandon Wick, Marketing Lead, and Jill Lovato, PR lead, talk about the role of marketing in open source. As open source technology progresses, the marketing paradigm for these projects must also shift and evolve, requiring a stronger partnership between marketing teams and techies in content development and outreach. This is a notion that CENGN has been championing for quite some time. In each SME project plan, we provide marketing and business expertise to organizations with successful projects in order to give their product or solution the jump-start it needs to break into the market!
We were thrilled to take part in this year's annual summit in Beijing! CENGN loves to foster our relationships with open source leaders like OPNFV as it works to continue accelerating innovation in Canada. As an open source platform, OPNFV is truly enabling the rapid innovation and commercialization of NFV solutions in Canada, and the world!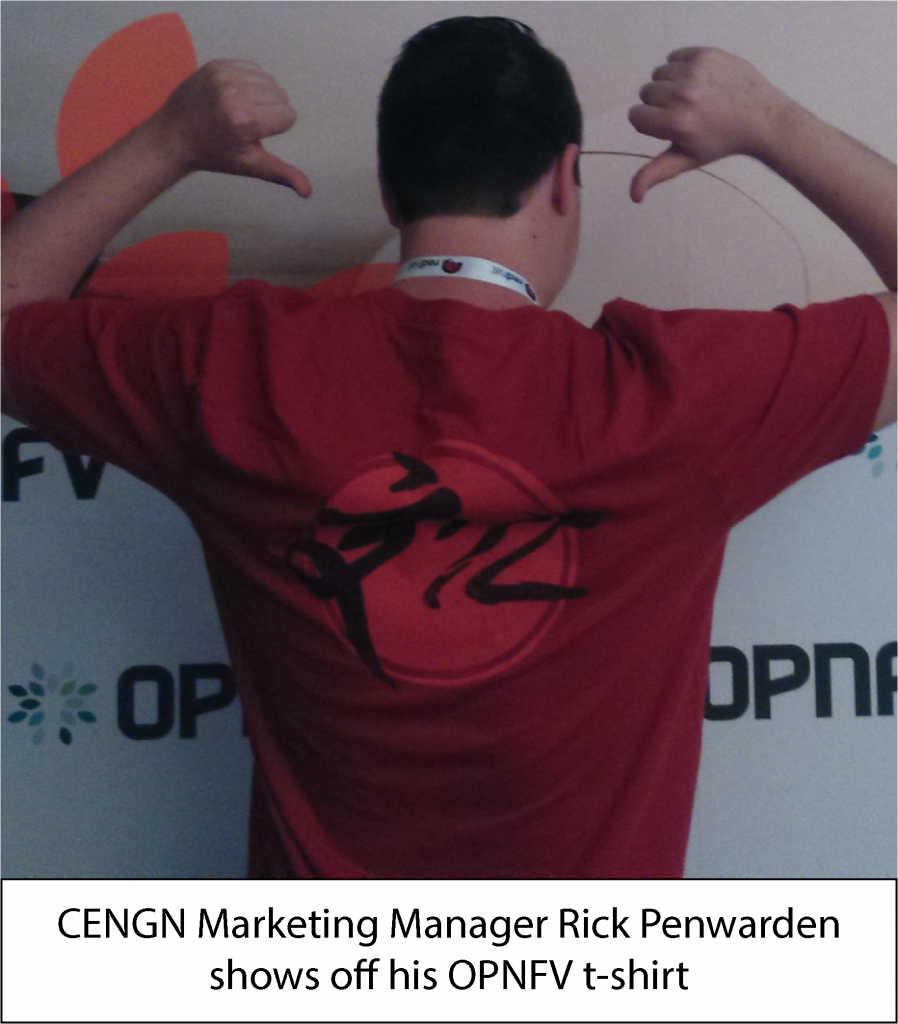 With events like the Open Source Networking Meetups, leaders in open source innovation are able to bring the brightest minds in software engineering and architecture together to discuss their experiences and perspectives on the open source community.
Open Source Networking Meetups are a fun way to encourage the continued development of OPNFV's platforms. By involving the whole open source networking community in global collaboration, these meetups provide the perfect local hub for the greatest minds to gather and innovate. CENGN received recognition at OPNFV summit for our part in organizing the Ottawa user meetups. We are excited to continue hosting these meetups to enable Canada's best in NFV to keep sharing their ideas, and developing the open source community. Our next open source meetup will be on June 21st, 2017 at the Innovation Centre in Bayview Yards.
OPNFV works to unlock universal infrastructure standards across SDN/NFV. With this organization, the world's brightest engineers are enabled to work together in strengthening their software and innovating the NFV industry faster than ever before! One of CENGN's goals is to support the continuous integration and continuous deployment of new open source technology. We look forward to the next summit, where we can continue supporting this goal with our fellow open source advocates.
A big shout out goes to OPNFV for their amazing summit in Beijing, and to all the sponsors and supporters who made the event possible. If you enjoyed OPNFV's summit last week, don't forget to save the date for the CENGN summit on December 7th! To learn more about it, check out the event page here!
CENGN updates, in your inbox.