---
Published: May 25th, 2017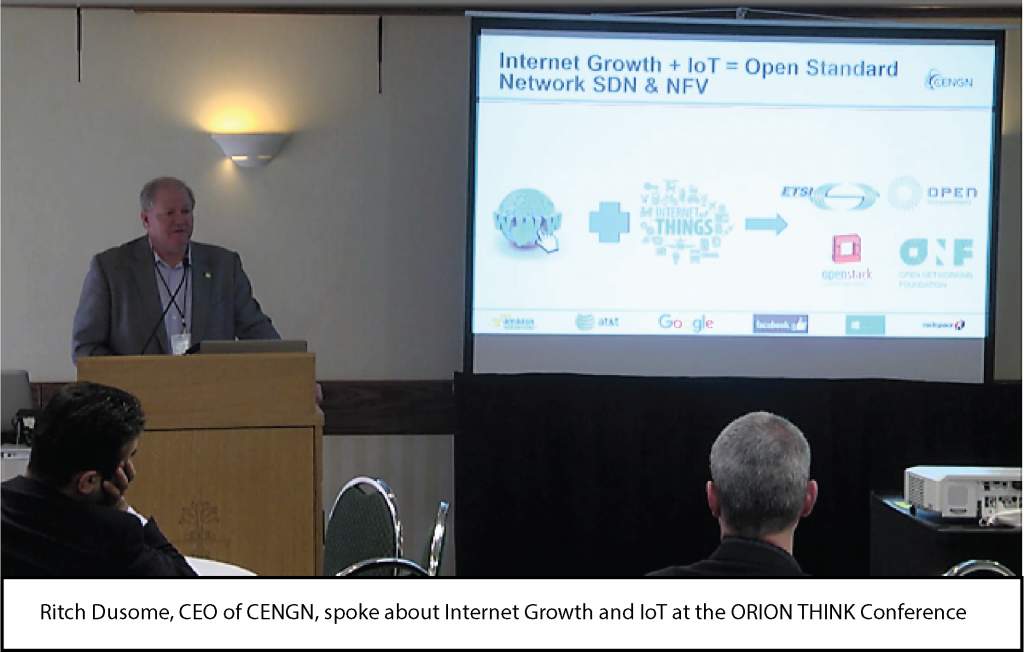 CENGN took part in ORION THINK conference yesterday on May 24th at the Chestnut Residence and Conference Centre in Toronto.
CENGN has been super busy this month with conferences in Toronto and Boston. Starting off, we sponsored and participated in Wavefront Summit, where we got to speak on a panel, judge a pitch competition, and bring along SMEs Expeto and Pilot Things to connect with other leaders in the ICT industry.
A week later we jetted off to sponsor and participate in the 2017 OpenStack Summit in Boston. While attending the summit, we got to speak on a panel and bring along SMEs BreqWatr, CloudOps, and Inocybe Technologies to connect with other industry innovators.
Heading back to Toronto, CENGN had the chance to attend OCE Discovery to connect with potential SMEs, students, and members, as well as keep up-to-date on the latest Internet of Things (IoT) and Smart City innovations.
Last but certainly not least, CENGN traveled to Toronto for the ORION THINK conference where we sponsored and spoke at the event.
The ORION THINK conference focused on the theme of "open" infrastructure, and how to support a system of openness in research, data, education, security, and government. Attendants of the event included technology leaders, and champions of the "open" approach, including: research and educations institutions, students, librarians, policy makers, and innovation community leaders. Of CENGN's members and partners, Juniper Networks and CANARIE attended and sponsored the event.
The event showcased a talented group of speakers. Attendees got the exclusive chance to hear from over 40 keynote speakers, including:
From CENGN, our own Ritch Dusome, President and CEO, gave an intro on Software-Defined-Networks (SDN) and Network Function Virtualization (NFV) technology, discussing how it will shape the future of network IT service management. Ritch's presentation gave a foundational overview of SDN and NFV, which is an area of strength for CENGN. In fact, CENGN offers several technical training programs for beginner to expert level professionals in both SDN and NFV.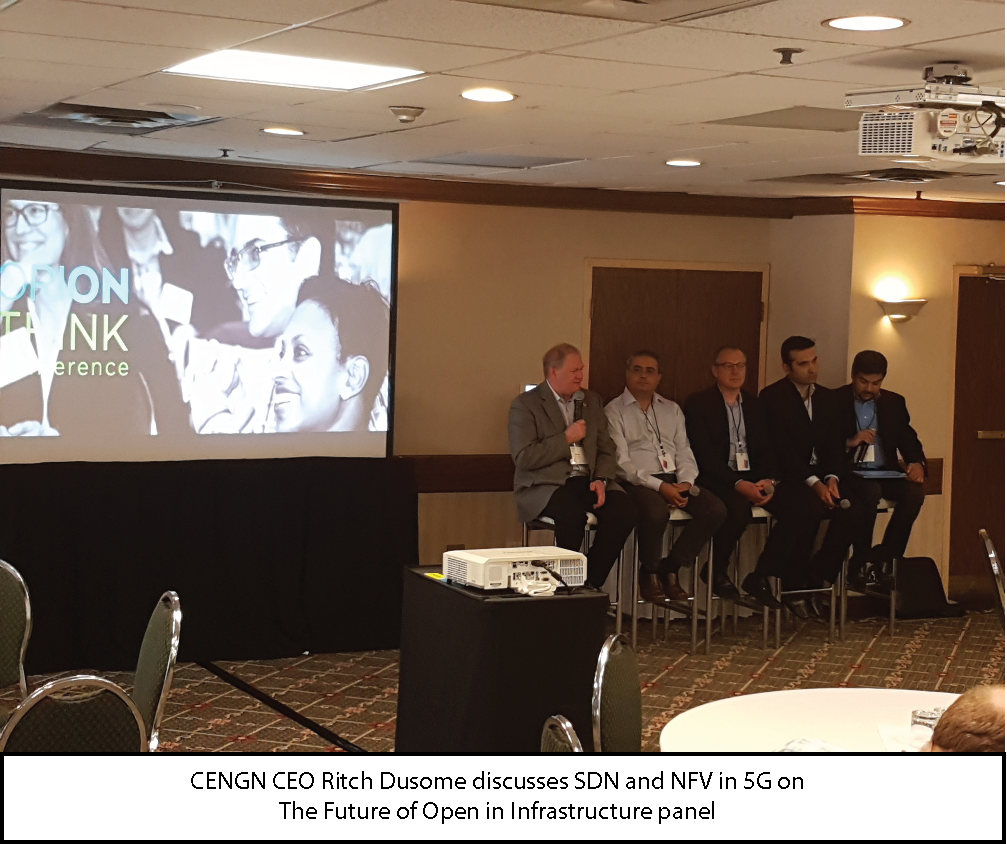 In his presentation entitled, "Intro to SDN open frameworks," Ritch also touched on CENGN's recent Ontario Government funding, and how the budget will increase opportunities for SMEs developing IoT and Smart City innovations. Thanks to the new Ontario budget, CENGN is excited to expand accessibility of its services and resources for SMEs projects across the province.
Ritch also sat on a panel called, "The Future of Open in Infrastructure," that was moderated by Farooq Naiyer, Chief Information Security Officer at ORION. Panelists discussed the implications of SDN and NFV in 5G Networking, as well as the new security precautions that will accompany next generation networks (NGN). Other industry leaders who participated in the panel included:
Yatish Kumar, Area Director,
Hadi Bannazadeh, Chief Architect, SAVI
Mark Gaudet, Products and Business Development Manager, CIRA
CENGN strives to connect all players of the ICT sector, including academia, research, and industry in one ecosystem of shared information and ideas. ORION THINK provided a great opportunity for CENGN to meet up-and-coming SMEs to collaborate with, and to stay updated on the latest innovations of "open" infrastructure.
ORION THINK was also an awesome opportunity for CENGN to connect with the best ICT students in Ontario, and to find new innovative thinkers to help connect them with co-ops and career opportunities.
Events like ORION THINK are vital to the continued acceleration of the ICT industry. ORION is on the cutting edge of Ontario innovation, connecting ideas, thinkers, and data through their high-speed fiber optic network. Like CENGN, ORION believes in connecting research, education, and industry in Ontario to empower local innovation.
Not only do these conferences provide a hub for tech industry leaders to gather and brainstorm, but it also allows for great academic and business networking opportunities that students and entrepreneurs can benefit from.
CENGN would like to extend a big thank you to ORION for hosting such an interesting and successful event! It was great getting to see so many bright, and intelligent minds together in one place, and we hope to see more of them at this year's 2017 CENGN Summit!
Oh, and don't forget about our final event for May! CENGN will be returning home to host another OpenStack Ottawa Meetup on May 31st. If you have yet to attend one of these awesome Meetups, you can read about the success of our last one here, and register on our Meetup page!
CENGN updates, in your inbox.