---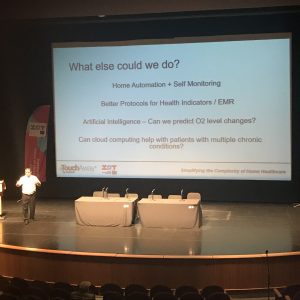 CENGN is happy to have been a sponsor for this year's IoT613 Conference, which came to a close on April 20th, 2018. The 3-day event gave ample opportunity to delve into the IoT sector, participate in valuable training sessions, and interact with industry leaders and professionals. Excited attendees filled the room, making IoT613 the place to be last week! That's why we sent a handful of our CENGNeers to sample the array of exciting exhibits and learn more about the latest IoT trends.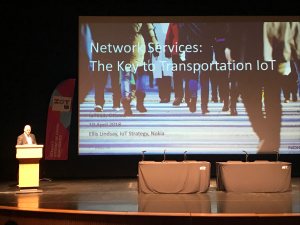 Held in the Canadian Museum of History, the event kicked off with a day of technical workshops centered around IoT such as analyzing sensor data, microcontroller programming, IoT security, and more! Following the technical workshops, attendees of the conference got a chance to unplug and look at the business aspect of IoT, pondering ways to keep the innovation in the industry rolling. Many panels were hosted, featuring representatives from some of the leading companies and institutions in IoT R&D who gave their insights in a wide range topics. CENGN member, Nokia, and one of our academic partners, Carleton University, were among the panelists at the conference where they both lead discussions on connected transportation.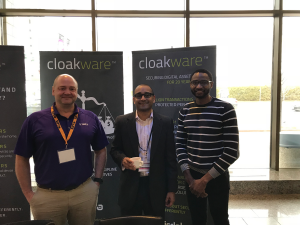 Our people got the chance to join in on the second and third day of the conference where they got the to explore the realms of connected transportation and wearable technology. The event also gave us the opportunity to get acquainted with the IoT landscape, giving us a look at key players, small and medium sized enterprises (SMEs), and academia that are all focused on IoT development. We even got to connect with some growing Canadian businesses and potential project companies!
With applications in areas like defense, industrial maintenance, e-commerce, and healthcare, IoT is a rapidly-growing sector teeming with innovation and promise. It is also one our project areas, and we've performed a number of projects with SMEs validating IoT solutions. Most recently, we completed an IoT project with New Brunswick based, ABsoft, to validate their LoRaWAN drive test solution.
Interested in learning more about IoT? Check out our IoT projects page!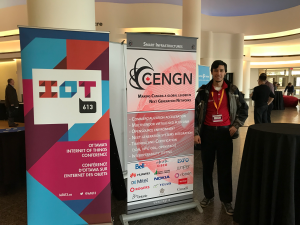 While performing projects with SMEs is our main initiative here at CENGN, attending events like IoT613 is equally as important to us. By going to these events we get the opportunity to meet companies that are candidates for CENGN projects, network with potential members and partners, and learn about the latest tech. This gives us insight on how we can keep improving our testbed and infrastructure services, which are vital for giving our SMEs cutting edge equipment to test their solutions. By initiating and carrying out these projects, we create a path for accelerated commercialization in Canada's networking industry.
We would like to thank IoT613 and all those who contributed to make this event possible! The knowledge and insights we gained while at IoT613 were great and will contribute to the CENGN mission in solidifying Canada's leadership in next generation networking!
Want to hear more about the events we'll be attending? Check out our calendar below:
[cherry_button text="Events" url="https://www.cengn.ca/events/" style="default" centered="yes" fluid_position="right" icon_position="top" color="#828282″ min_width="80″ target="_blank"][/cherry_button]
CENGN updates, in your inbox.