---
Published: May 17th, 2018
This week's meetup, hosted by the Kubernetes and Cloud Native Ottawa Group, was a captivating experience for attendees. The event, sponsored by Aqua and Shopify, featured speakers from CloudOps, Aqua and CENGN. Hitting on the topics of Image Admittance, Unified Cluster Management with Rancher 2.0, and the use of Rook for PersistentVolumes, each of the presentations covered unique and engaging topics on working with Kubernetes.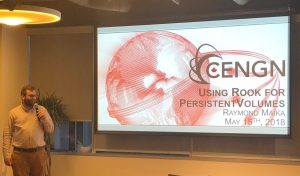 After an update by meetup host Archy Khayretdinov, Ali Naqvi from Aqua Security delved into a presentation about the shift of responsibility to DevOps when dealing with container security. He talked about the risks of Image Admittance and how they can be managed in a Kubernetes environment.
Following this was a live demonstration of Rancher 2.0 – an enterprise Kubernetes platform with the impressive ability to manage Kubernetes distros, clusters and clouds. The demo focused on one of the platform's three major components: Unified Cluster Management. It offered a great glimpse into some of the software's features and was an awesome part of Rancher 2.0's debut as a General Availability (GA) platform!
The final presentation was given by one of CENGN's own Cloud Infrastructure Engineers, Raymond Maika, who walked the audience through how the Rook Operator tool is used to create a Ceph storage cluster on a Kubernetes infrastructure. Raymond used the Prometheus Open Source system to show solution monitoring and presented speed results when using Rook PersistentVolumes. His presentation successfully demonstrated the storage problem-solving capabilities of Rook and acknowledged how it acts as an operator to manage Ceph clusters. This effectively highlighted the integration of cloud-native storage into the realm of Kubernetes.
We would like to extend our thanks to everyone who participated in this event and helped make it such a huge success. After all, Open Source is all about cooperation and collaboration so that together, we can gain insight on the techniques that will propel our industry into the next level of networking. Joining forces with fellow industry members to help carry out meetups and events within the networking community is a huge part of CENGN's mission to help build an ecosystem that supports the needs of both large businesses, like our members, as well as small to medium enterprises who we conduct projects with.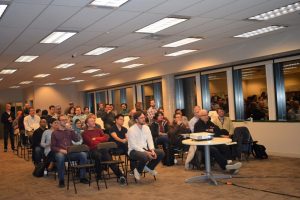 Meetups are also a great way to engage with the next generation of networkers by connecting with eager students and young professionals. The learning that takes place at these events supports CENGN's drive to nurture the growth of the innovation ecosystem. This allows us to go beyond our current strategy of partnering with academic institutions and hiring students from across the country. It is our belief that as a successful Canadian business grows, so does their demand to hire new qualified professionals. Events like these show off the rich Canadian-grown talent our community has to offer.
This is all to say, we jump at the chance to hear from and hang out with members of the tech community. The next meetup you can find us at is the Ottawa Open Source Networking Meetup on June 6th . This particular meetup focuses on overcoming the challenges of Software Defined Networking (SDN) and Network Functions Virtualization (NFV), Management and Orchestration (MANO), cloud, data analytics, and the acceleration of underlying infrastructures. If you are interested in hearing presentations from industry representatives, including one of our own CENGNeers, and mingling with professionals then check out the link below.
Watch our events page for more details on who will be presenting closer to the event!
Speaking of Kubernetes, also coming up is the Docker & Kubernetes training workshop that we will be hosting in partnership with CloudOps this June. This event is designed to offer hands-on experience working with each of these technologies and help build a foundation of understanding in the networkers of the future. Your duo of hosts have worked together for several years, through CloudOps' completion of two different projects that were successfully tested on the CENGN Testbed and our next-generation commercial grade infrastructure. CENGN and CloudOps share some great synergy so trust us – you won't want to miss out on this upcoming workshop!
CENGN updates, in your inbox.