---
Published: May 4th, 2018
This week, CENGN took part in the ORION THINK Conference at the MaRS Centre in Toronto, Ontario. The conference was tailored toward technology leaders and champions including research and academic institutions, students, innovation community leaders, government, and private businesses. The event brought to light how Ontario's innovation community is taking united steps in supporting a growing network of innovators in Canada.
The conference was sponsored by several CENGN members, including Cisco, Huawei, Juniper Network and Nokia, making it a great opportunity to learn from a variety of professionals. With the theme of Empowering Innovation, there was no shortage of learning opportunities at this event. Featuring speakers from various Ontario universities, ORION THINK discussed issues like cybersecurity, touching on how to effectively manage cyber threats and ransomware attacks. Another panel highlighted the importance of a diverse and talented workforce in an innovation economy, and how we can continue to support one of the world's most educated workforces.
With many notable attendees and sponsors, the networking opportunities were abundant. One notable attendee was Studio 1 Labs, a company that is currently conducting a CENGN IoT project, that specializes in the evolving field of healthcare AI. During the event, Studio 1 Labs took part in the Research and Intelligent Community breakout session. It was great to see one of the businesses we are providing services to receive exposure as they discuss the importance of technology in the health industry. All in all, the event enabled participants to grow a deeper understanding of modern technology and the evolution of the living innovation ecosystem.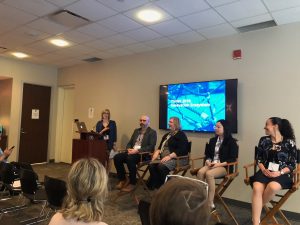 ORION is a non-profit organization dedicated to supporting research, education and innovation in Ontario. Although the organization is known best as a champion for connecting Ontario's research and academic community, ORION plays a significant role in the province's tech economy through its efforts to empower innovators in Ontario and help them transform and integrate their unprecedented ideas. They foster collaboration by providing the infrastructure necessary to connect various institutions, and the resources their users require to advance their discoveries.
Check out this video for a quick glimpse of what ORION is all about:
CENGN's partnership with ORION highlights both organizations' values and shared passion for the empowerment of Ontarians in the networking sector. It also demonstrates the manner in which we leverage the strengths of our partners in order to collectively create an ecosystem that enables innovation in a variety of networking project areas. CENGN and ORION's collaboration promotes the interaction of academia, small and medium-sized enterprises (SMEs) and large businesses by facilitating research, education and innovation throughout Canada.
Here at CENGN, our mission is to support the innovation ecosystem in Canada, and help the country increase their leadership in Next Generation Networks (NGN). To do so, we provide our CENGN Testbed and infrastructure services to help SMEs test and validate their cutting-edge networking solutions. With access to CENGN's resources, growing Canadian businesses have all the tools they need to push their products to market and flourish in ICT's competitive landscape.
Do you have a product or solution that requires testing or validation? Click here to submit your CENGN project online!
After another successful ORION THINK conference, we would like to extend a huge thank you to ORION for all of the hard work that went into organizing the event, as well as their continued dedication to empowering innovation in Ontario.
CENGN continues its travels as we attend events across the nation, including the OpenStack Summit in Vancouver later this month!
Visit our Event Page to learn more about upcoming events!
CENGN updates, in your inbox.