---
Published: March 29, 2018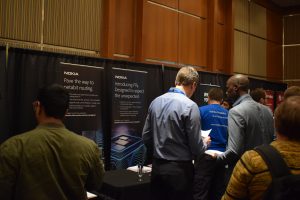 Every year, the Kanata North Business Association hosts Discover TechNATA, a career fair and tech expo for local businesses looking to recruit their share of new and senior talents. Held at the Brookstreet Hotel, TechNATA 2018 saw the event continue its success, drawing in a massive crowd looking to network and apply for tech industry jobs. With growing Canadian businesses and multinationals exhibiting their businesses and available positions, TechNATA was the place to be for all those looking to secure a job based in the technical hotbed that is Kanata North.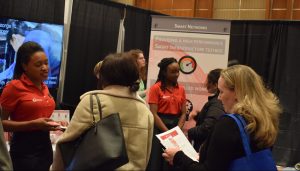 The Brookstreet venue was alive and moving, teeming with opportunity and funneling hundreds of individuals through its doors throughout the day. From eager students to tech industry veterans, the attendees of TechNATA found abundant chance to connect with potential employers and get in the know on the latest and greatest Kanata North technologies. Exhibitors also got their chance to reach out and generate interest in their companies to some of the best talent Canada has to offer.
For our part, CENGN hosted a booth showcasing our CENGN Testbed, infrastructure services, and career opportunities. Following the announcement of our Next Generation Network Program (NGNP), we have been looking to fill up our ranks with talented individuals both in senior and entry-level positions. We're looking to hire positions in network engineering, business development, project management, and various student positions!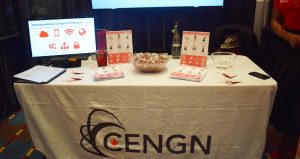 Are you interested in working at CENGN? Check out our careers page to find out what positions we're hiring for!
Throughout the day, we got the chance to converse with an amazing line of talented individuals from all levels of experience. They were eager to learn about our mission, and get their hands on some cool CENGN swag we were giving out! It was great to see the wealth of talent coming right from within Kanata.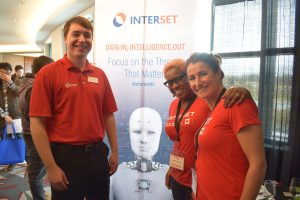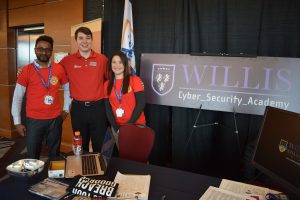 A number of our members were also looking to spread the word on the latest happenings within their companies and get a hold of new hires. We stopped by a few of our member's booths, including Cisco, Mitel, and Nokia, and took the time to look over their displays and gain new insights on member affairs. We also stopped by and reconnected with Interset, one of the growing Canadian companies that we've worked with!
In addition to our members, we also got the chance to connect with some of our academic partners like Willis College, the University of Ottawa, and Algonquin College, who were hosting their own booths at TechNATA. Lots of students also made their way to our display, enthusiastically looking for the opportunity to work at CENGN in the upcoming terms. We were excited to be introduced to so many young talents and are looking forward to taking some of them under our wing.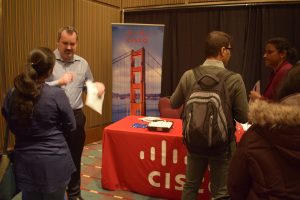 Our student program is a big part of what we do at CENGN; we benefit greatly from the raw, budding talent and the eager dispositions of our students, as well as get the chance to nurture their talents and skills so that they might go on to be leading professionals in the tech industry. Not only do we offer guidance and training for our students, we also provide them with the means to connect with our small and medium sized enterprises (SMEs) and multinational members and partners to help students secure jobs right after graduation.
Are you a student interested in learning what CENGN has to offer? Check out our student careers page!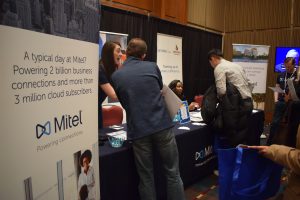 Attending events like TechNATA is an important part of our mission to bring about the next generation of networking in Canada. Scouting and acquiring the best workers that the Canadian ICT industry has to offer helps us continue our process of carrying out projects with Canadian SMEs. This backs our mission of supporting the Canadian networking industry and accelerates commercialization within our country's ICT sector. Following TechNATA, we are looking forward to sifting through a fresh batch of promising applicants, and even more thrilled to take on and nurture new and talented ICT professionals.
We would like to extend our gratitude to the Kanata North Business Association for hosting such a fantastic event. Kanata North has been a continuous proponent to the CENGN mission, and TechNATA 2018 was consistent in that trend; overall, the attendees ventured out to the Brookstreet Hotel with the promise of opportunity, and TechNATA delivered. For us, networking at career fairs like this is always a welcomed occasion, and we look forward to participating next year as well!
For more information on our full-time job listings and student positions, check out our careers page; and if you want to stay in the know on where CENGN will be heading next, take a look at our events page below!
[cherry_button text=" Careers " url="https://www.cengn.ca/contact/careers" style="default" fluid_position="right" icon_position="top" color="#828282″ min_width="80″ target="_self"][/cherry_button] [cherry_button text=" Events " url="https://www.cengn.ca/events" style="default" fluid_position="right" icon_position="top" color="#828282″ min_width="80″ target="_self"][/cherry_button]
CENGN updates, in your inbox.