---
Published: April 23rd, 2018
Digital transformation is changing the network landscape, resulting in shrinking margins and commoditization. These changes have operators hard-pressed to keep up with an evolving and increasingly competitive industry paradigm. In fact, according to the TM Forum Digital Transformation Tracker, fewer than 50 percent of communications service providers (CSPs) expect revenue growth in the next two to three years.
For telcos, NFV is at the heart of Digital Transformation; it is changing the way networks are built and how services are delivered. As a key enabler of the coming 5G infrastructure, NFV allows operators to introduce new revenue-generating mobile services faster and easier than ever before. Value-added services (VAS) such as multimedia messaging are critical in attracting smartphone-wielding millennial subscribers, 59% of who use photo and video-sharing social media like Instagram every day.
Recently, we started a new network application project that touches on this area with Enghouse Networks, a global provider of Business Support Systems (BSS), Operations Support Systems (OSS), Network Security, Control & Routing Automation, Mobile Value-Added Services (VAS), and Revenue Generation.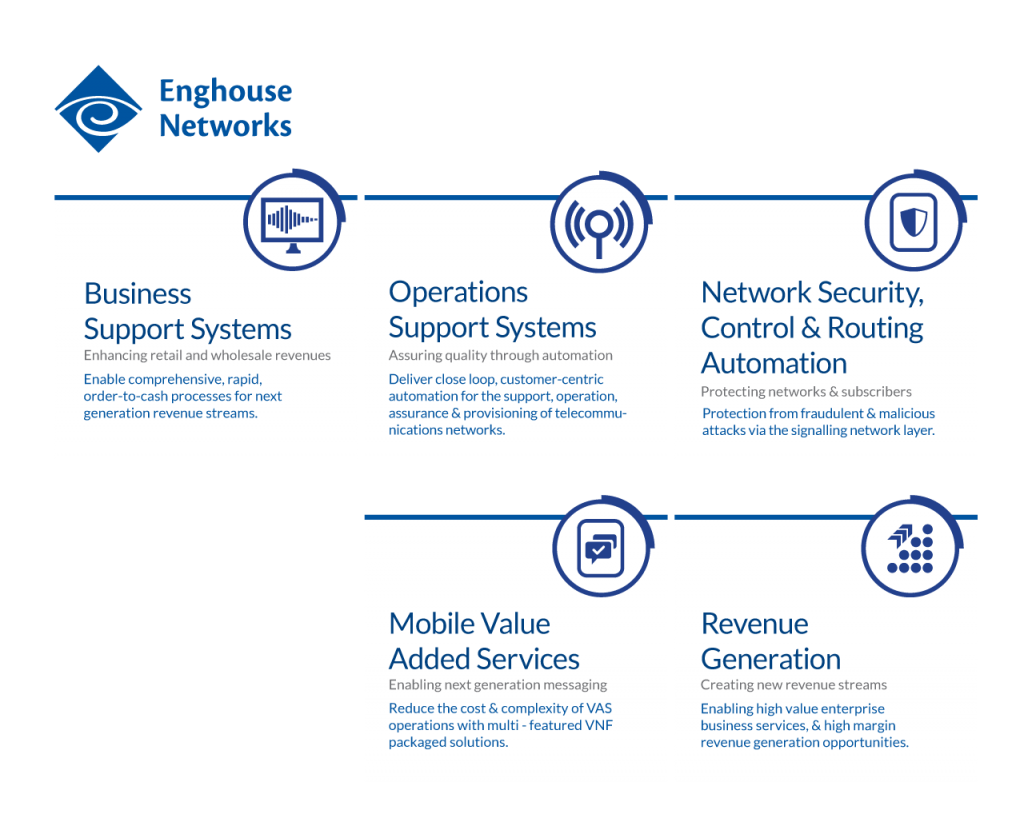 Leveraging decades of industry experience and innovative company culture, Enghouse Networks helps next generation telecommunication service providers to create new revenue streams, drive sustainable growth and embrace Digital Transformation. The company's expansive portfolio is aligned with consumer demand, and facilitates the move away from monolithic architecture to microservices that fit into a specific network environment.
Enghouse Networks Tests the Virtual Network Functionality of their Multimedia Messaging Services Centre (MMSC)
Enghouse Networks will use our infrastructure services in a new CENGN project to virtualize their MMSC product offerings. This project will focus on the company's mission of delivering comprehensive and virtual technology solutions, specifically in the realm of multimedia messaging (MMS).
MMS Explained
Multimedia messaging is a system for users to send multimedia content. For both personal and commercial use, MMS offers significant benefits over the traditional Short Message Service (SMS) due to the variety of content that it can support. Pairing this added flexibility and the expansion of bandwidth for mobile connections, there has been a significant increase in the popularity of MMS. Today's smartphones are equipped with high quality cameras and numerous applications that enable people to take more videos and pictures to send to others. Commercially, MMS has transformed the way businesses can advertise, through content variety and social media. Enghouse Networks is helping CSPs to keep up with the influx of content sent over their network.
The Solution: Enghouse Networks MMSC
The Enghouse Networks MMSC solution is designed to grant both consumers and enterprises the ability to extend their multimedia communication reach around the globe. Supporting both person-to-person (P2P) and application-to-person (A2P) messaging, this MMSC solution is proven to be highly adaptable by transcoding media in real-time for several types of images, audio, and video. Simply put, the Enghouse Networks MMSC solution is an underlying service system that allows people across the globe to communicate through multimedia, while satisfying the requirements of any mobile operator and adapting to any amount of traffic.
Testing Enghouse VNF Manager and MMSC VNF
Armed with its solution, Enghouse Networks is ready to begin a CENGN project to accelerate the process of the NFV transformation of its VAS offering. The company will conduct a functional validation of its Element Management System (EMS) as a Virtual Networks Function (VNF) manager and MMSC as a VNF on the CENGN OpenStack platform. Leveraging the resources of CENGN member, Wind River, Enghouse Networks will have a dedicated cloud environment on the Wind River Titanium Edge virtualization platform.
The unique Titanium Edge testing environment will allow Enghouse Networks to have full OpenStack administrative API access to make calls to Keystone, Heat, and Nova. For this project, having full control and visibility into the cloud tenancies is essential. The Wind River Titanium Edge will allow Enghouse Networks to have this access, providing the required information to better understand how their solution is operating, and fine-tune it as a VNF.
For more information on how CENGN offers Titanium Edge as Carrier Grade IaaS, click here!
Once the project is completed, the Enghouse Networks and CENGN partnership will have successfully deployed the Element Management System Virtual Networks Function manager and MMSC Virtual Networks Function in to the CENGN OpenStack Environment. Validation of its MMSC as a VNF will enable smoother deployment and operations on customers' respective infrastructures.
For Enghouse Networks, achieving third-party validation of its EMS as a VNFM and MMSC as a VNF will accelerate their commercialization timeline and provide the potential to yield new business development and marketing opportunities.
Here at CENGN, we are excited to support interesting projects such as this one and help develop the next generation of technologies being built right here in Canada!
Beyond SDN/NFV/SD-WAN, CENGN works with growing Canadian businesses to validate next generation networking solutions in mobile networking projects, Internet of Things, data centre and cloud, cybersecurity, network applications, and network transport. If you are interested in testing your company's latest networking product, submit a project to CENGN by clicking the button below.
[cherry_button text="View Project Results" url="https://www.cengn.ca/multimedia-service-validation-vnf/" style="default" centered="yes" icon_position="bottom" color="#000000″ min_width="69″ target="_self"]
[cherry_button text="Submit your own project here" url="https://www.cengn.ca/projects/" style="default" centered="yes" icon_position="bottom" color="#000000″ min_width="69″ target="_self"]
CENGN updates, in your inbox.