---
Published: April 5th, 2018
VirTool Networks creates tools that simplify virtual network operations. Their flagship product is their VirTool Network Analyzer (VNA) that saves network operators the hassle of manually troubleshooting OpenStack cloud networks to find packet flows and network topologies. VirTool Networks was an obvious fit for a CENGN project as we have a state-of-the-art OpenStack infrastructure and VirTool Networks offers detailed yet intuitive graphical views of OpenStack network topologies. CENGN and VirTool Networks will be collaborating on a network application project to both validate the operation of the VirTool Network Analyzer and test its scalability.
VirTool Networks
Based in Kelowna, British Columbia, VirTool Networks is a small enterprise on the west coast that has been making big waves. More than a few heads turned at the OpenStack Summit in Boston last year when they officially launched VNA. Engineers and IT workers alike were impressed by the solution's ability to efficiently map out network topologies to significantly accelerate any troubleshooting process.
Their founder and CTO, Paul Archard, isn't new to the tech sector, having held positions at multiple companies as a software architect. Paul recognized how time consuming the task of troubleshooting networks is and wanted to help solve this issue. It is no secret that engineers spend hours working to determine the path of packets, find out where there are inefficiencies, as well as many other statistics related to the performance of the overall network. VNA is designed to give these engineers a view of their network with a click of a button.
Why OpenStack?
The popularity of OpenStack continues to grow at a swift pace, but adoptability of the cloud computing platform can come with many complications. For example, OpenStack can be a difficult system to deploy as it requires in-depth knowledge of complicated networking concepts making it difficult to configure. Typical troubleshooting begins with a checklist of items and going through the list one-by-one to identify the problem. VirTool Networks automates this process, so you know what and where the problem is on the network without having to go hunting.
Simplifying the OpenStack Platform
VirTool Networks troubleshoots the OpenStack component Neutron. VNA creates a real-time map of the network topology to get cloud-wide packet capture and network stats, significantly reducing the time users spend analyzing and troubleshooting the OpenStack network manually.
From VNA's overview dashboard, users have the ability to drill down to get information about specific nodes or portions of the network. While testing, users can filter from packet types such as TCP, ICMP, and many more to establish traffic patterns or statistics like speed of compute nodes.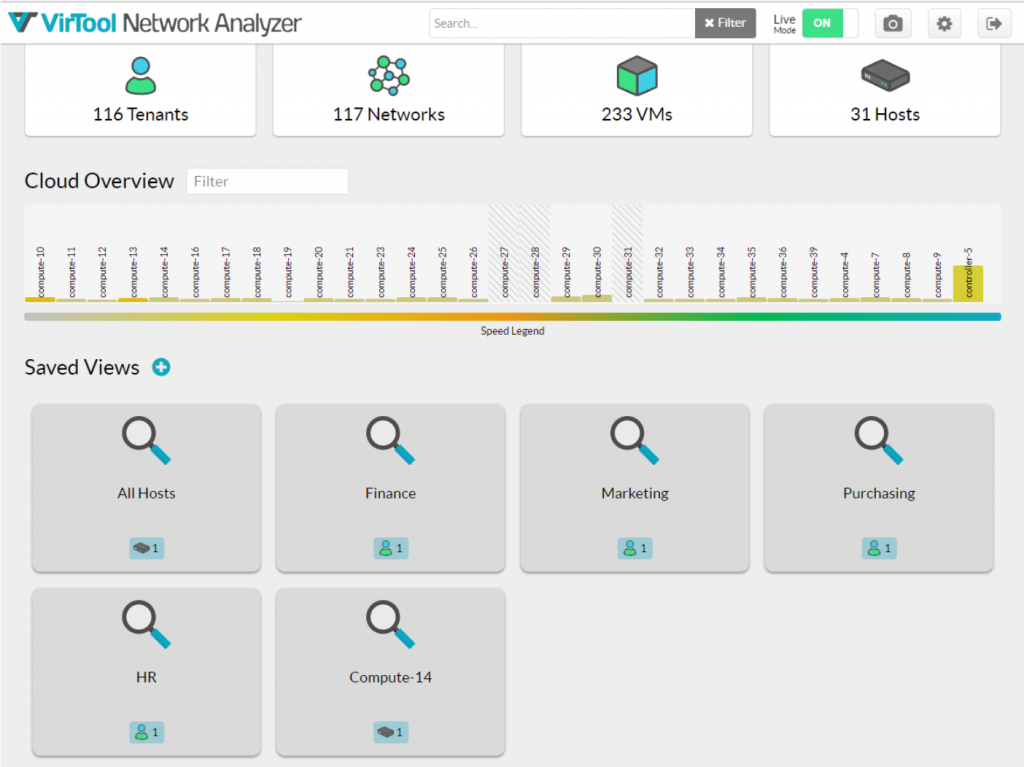 Key Features:
– View entire cloud network in real time and see specifics of VMs, tenants, or networks
– Locate traffic hotspots and congestion points
– Compare activity on multiple interfaces and view live switch and bridge statistics
– View CPU utilization on OpenStack nodes and tenant level VMs
– Capture traffic from any point in the OpenStack cloud with a couple of clicks
– Trace packets as they travel through the network
Analyzing CENGN's student tenancies
Ready to begin their CENGN project in a commercial-like environment, VirTool Networks will be validating the operation of their VNA on the CENGN cloud. During the project, VirTool will scale up the number of compute nodes testing the VNAs ability to map a network overlay and determine the path of packets flowing throughout a larger cloud.
An interesting first for CENGN, this project will be analyzing a live piece of the CENGN infrastructure, providing overviews of the network topologies of our student cloud tenancies. The students will be working on independent projects within the network, allowing VNA to analyze real traffic flowing throughout the CENGN cloud. The end goal for the project is to validate and confirm topology compatibility of VNA with the CENGN cloud and to scale the number of nodes to the point of any altered performance behaviour. CENGN's student tenancies provide VirTool with a unique project space to scale up the number of nodes to determine the maximum performance capacity of VNA.

The CENGN Advantage
There are plenty of reasons why CENGN's services are optimal for testing VirTool Networks' solution. Primarily, testing their VNA on our active OpenStack infrastructure will allow VirTool Networks to validate their product on a commercial-like environment without paying commercial-hosting costs. This way, the company will have full reign to increase the number of nodes throughout the project, to give full validation to the functionality and scalability of their solution. VirTool will not only determine the scaling limits of their solution, but they will leave this CENGN project with proof that their solution will fit the needs of prospective customers.
Beyond network applications, CENGN works with growing Canadian businesses to validate next generation networking solutions in SDN/NFV/SD-WAN, Internet of Things, mobile networks, cybersecurity, network transport, and data centre and cloud. If you are interested in testing your company's latest networking product, submit a project to CENGN by clicking the button below:
[cherry_button text="View Project Results" url="https://www.cengn.ca/service-view/virtool-virtual-network-analyzer/" style="default" fluid_position="right" icon_position="top" color="#828282″ min_width="80″ target="_self"][/cherry_button] [cherry_button text="Submit Your Project Here" url="https://www.cengn.ca/projects/" style="default" fluid_position="right" icon_position="top" color="#828282″ min_width="80″ target="_self"][/cherry_button]
[cherry_button text="View More Projects" url="https://www.cengn.ca/service-view/past-projects/" style="default" fluid_position="right" icon_position="top" color="#828282″ min_width="80″ target="_self"][/cherry_button]
Read More About Virtool Networks
VirTool Networks Changing the OpenStack Game
VirTool Networks Announces New OpenStack Troubleshooting Tool
VirTool Networks Announces Major Update to OpenStack Troubleshooting Tool
CENGN updates, in your inbox.