---
Published: September 21st, 2018
Ottawa-based Zighra is next in line to validate the performance of their technology by using CENGN's services. Zighra has an AI-powered platform that reduces fraud, detects threats, and validates user authentication. Their platform is a patented, passwordless authentication solution that ensures you are who you say you are when making transactions on the phone, web, or other sensor-based devices. Zighra recently made the Canadian Innovation Exchange (CIX) Top 20 as one of the most innovative startups in Canada and Zighra's CEO, Deepak Dutt, is a Forbes Technology Council member. Looking to take their business development efforts to the next level, Zighra will be testing the scalability performance of their solution. To do so, they will be using the CENGN infrastructure along with our technical support to determine how many transactions their server can process simultaneously.
Securing the Connected Economy
Zighra's platform correlates human, device, and environmental traits to create a unique profile of a user's interactions with an app. This profile validates continuously throughout online transactions that it is the authorized and genuine user, using the right device, with the right behavioral characteristics. If the risk score produced from the correlated data drops below a specified threshold, corrective action is taken. For example, if somebody has gained access to an unauthorized device and is trying to execute a transaction, such as bank transfers, Zighra's platform will pick up on the trait differences between its authorized user and the imposter and will request step up verifications. When these fail, the transactions can be blocked inflight preventing fraud in its tracks. This can all be done without asking the user for a password. In addition to blocking account take overs and remote attacks by human fraudsters, Zighra's platform seamlessly eliminates bot attacks through its task-based authentication (asking the user to perform a task like swiping) and sensor fingerprinting.
Zighra's platform is built on a proprietary artificial intelligence and machine learning algorithm. Typically, AI programs take thousands of interactions to begin grasping the behaviour of the user. This is compared to only 15 user interactions for Zighra's platform to begin effectively operating. Their patented algorithm goes beyond standard AI to dynamically adapt and understand the characteristics of its users. Beyond this, organizations can use Zighra's platform to rely less on passwords making the end user experience friction-free and easy.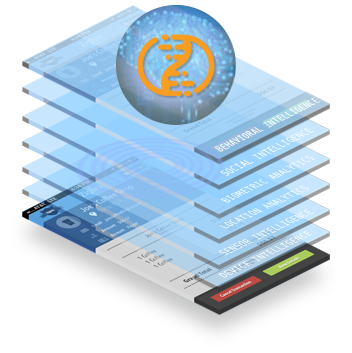 Zighra can be easily adopted and integrated into an organization's existing infrastructure. Integration within mobile and web apps is easily accomplished via a software development kit (SDK). Zighra can also be integrated to back-end authentication platforms via an API integration. Zighra's platform has been designed for deployment flexibility functioning as either a cloud-based, on-premise or 100% on-device solution. The fully on-device option compatible with FIDO 2 standards is of particular interest to companies and organizations wishing to provide end users with more control of their privacy or who support a decentralized credential storage strategy to lower the risk of attack.
Scaling up the Transactions
The objective of Zighra's CENGN project is to determine how many transactions their server can process simultaneously. At its peak, traffic generation will emulate simultaneous authentication transaction volumes similar to the largest payment engines, banks and Managed Security Service Providers (MSSPs). Using Jmeter, an open source traffic generation tool, simulated user transactions will be sent to Zighra's servers hosted on the CENGN infrastructure. Traffic generation scenarios will be developed to make HTTPS calls that exercise the Zighra server APIs exactly how the mobile app would. All of the testing will be conducted in a dedicated project slice on the CENGN Testbed.
Taking Advantage of CENGN's Services
In preparation for large-scale commercial deployments, CENGN's services offer Zighra the opportunity to understand the processing power of Zighra's platform. Access to a dedicated project slice provides companies like Zighra the ability to run tests that they could not in a commercial deployment as the risk of errors occurring and service-levels dropping becomes more probable. A pre-configured testing area also frees up Zighra's engineering team, saving both time and money in the setting up phase, leaving the company to focus on product development. Sign up for our newsletter to stay tuned for further developments on Zighra's CENGN project as they test the scalability of the platform.
Beyond cybersecurity, CENGN works with growing Canadian businesses to validate next generation networking solutions in data centre and cloud, Internet of Things (IoT), mobile networks, network applications, network transport, and SDN/NFV/SD-WAN.
Visit the Zighra website to learn more about their company and SensifyID.
[cherry_button text="Read the Results of the Project Here" url="https://www.cengn.ca/zighra/" style="default" centered="yes" fluid_position="right" icon_position="top" color="#000000″ min_width="80″ target="_self"]https://www.businesswire.com [/cherry_button]
CENGN updates, in your inbox.