---
Last week, CENGN visited the big city to attend the Advance Ontario Conference in Toronto! The event was hosted by our friends at ORION, in partnership with SOSCIP and Compute Ontario, to provide a collaborative space for the tech community to come together to assert and understand shared challenges and opportunities in innovation and digital infrastructure, and to share their unique perspectives on the topic.
Digital infrastructure and collaboration are becoming the backbones of innovation in research, education, and industry, so now more than ever, it is important for the Ontario tech community to join together and drive change in the Information and Communication Technology (ICT) sector. This was a strong theme for Advance Ontario, and we were thrilled to participate in the event's program discussing different strategies on strengthening Ontario's overall innovation economy.
'Intersection of Academia, Industry, and Start-ups' Panel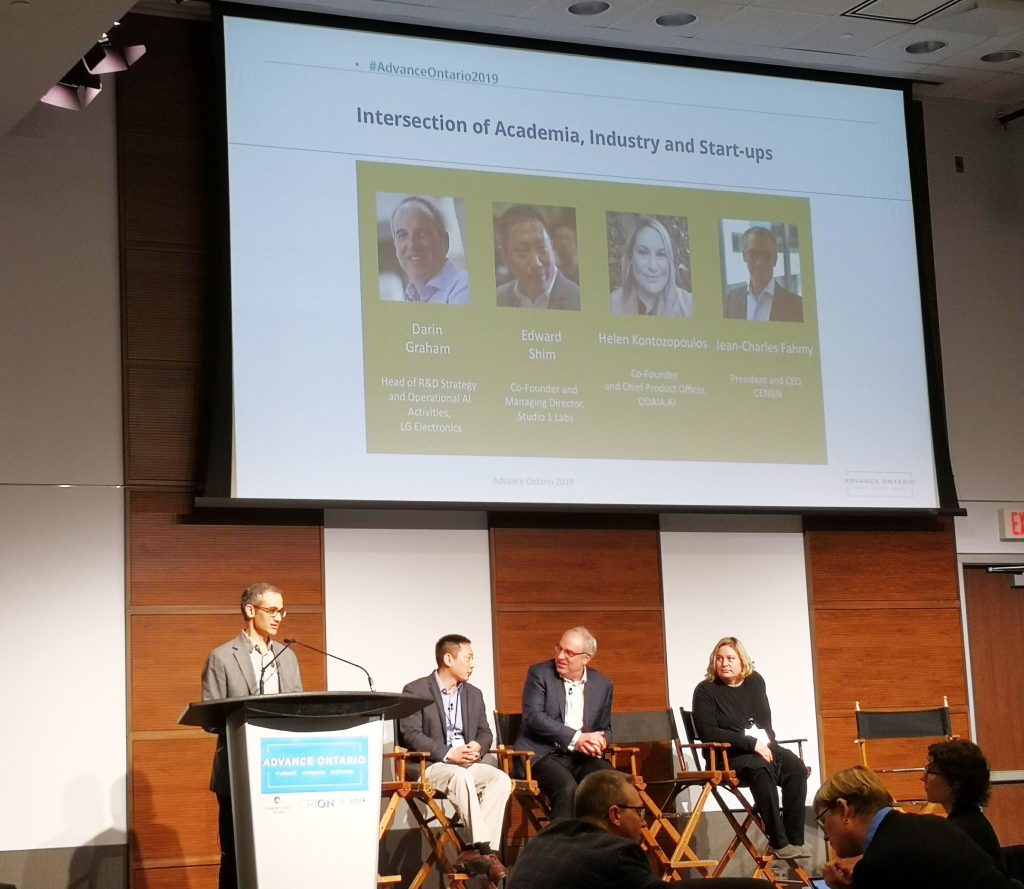 JC Fahmy, CENGN President and CEO, took the lead on the event's 'Intersection of Academia, Industry, and Start-ups' panel. This panel focused on how the different sectors of a healthy community can work collaboratively to foster a strong innovative ecosystem. Featured speakers from Studio 1 Labs, AI Lab at LG Electronics, and ODAIA, spoke to their unique experiences channeling the relationships between industry, academia and government to overcome barriers to success. Attendees were provided insights on the challenges and opportunities related to commercialization, and leveraging connections to promote your business. The panel also discussed how to leverage data science tools and resources, how to transition a growing business, and how to grow based on your mistakes.
CENGN was a perfect fit for this panel, especially taking into account our work to facilitate commercialization. One of our company's main goals is to accelerate the commercialization process for Canadian small and medium enterprises (SMEs) and maximize the benefits of successfully going to market. We do this by providing access to our commercial grade infrastructure and technical support and expertise so SMEs can benchmark, functionality test, scale, and/or demonstrate their solutions to overcome any barriers or obstacles they are facing.
We also emphasize establishing strong connections through our ecosystem of members, partners, and academia. One of the ways we do this is by attending events like Advance Ontario to continue to network and stay in the loop with the collaborative minds that help make Canada one of the strongest drivers of innovation in the world!
The Event Continues…
After JC took the stage, CENGN spent time enjoying the remainder of the event! There were other riveting keynotes, conference breakouts, and workshops that touched on important concepts like diversity, supporting NextGen talent, emerging technologies, Canada's digital research infrastructure, cybersecurity, and other tech topics at the forefront of Ontario.
Continuing to Advance
CENGN was thrilled to have taken part in such a successful event. We prioritize participating in and attending events like Advance Ontario so that we can continue to learn from Ontario's tech ecosystem and share our knowledge and resources. By doing this, we help ensure that growing Canadian businesses have the resources they need to innovate and succeed, allowing for the continued advancement of our province's tech presence.
A big thank you to ORION for inviting us to participate in this event. We are excited to see what you will be up to next!
Interested in hanging out with CENGN? Check out our events calendar to see what networking opportunities are on our horizon.
CENGN updates, in your inbox.