---
Published: October 23rd, 2017
On October 19th, Shawn Kahandaliyanage, Senior Manager of Business Development, and I, Zachary Brant, Finance Specialist Student, represented CENGN at Startup Canada Day on the Hill 2017.
Startup Canada Day on the Hill is the feature event of the Business Development Bank of Canada's (BDC) Small Business Week. This event is hosted annually by Startup Canada and presented by BDC and Intuit Canada. It is the largest entrepreneurship conference in Canada hosting over 1,100 attendees. This year, attendees included leading entrepreneurs, innovators, investors, industry executives as well as government representatives. The goal of this conference is to bring together Canada's leaders and business professionals to further solidify Canada as a global destination for entrepreneurship, innovation, investment and skills of the future.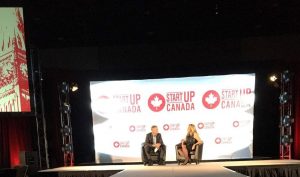 Event activities included keynote presentations by industry leaders and government decision makers, panel discussions, policy hearings, policy hack-a-thons and pitch competitions. The activities were categorized based on their audience and presented on six different stages. With so many informative sessions going on, it was impossible to attend them all. Shawn and I split our time between the Canada Stage, which comprised keynotes by investors and experienced entrepreneurs, and the Scale-Up Stage for start-ups. The Scale-Up Stage was important to us as we got to meet and engage with small and medium enterprises (SMEs) that are in the midst of scaling their business. As an organization dedicated to the commercialization of next generation networks, CENGN provides start-ups and researchers with access to industry guidance and our multi-vendor Infrastructure for the validation of their technologies. The event therefore gave us an avenue to promote our SME projects and services, and learn more about the challenges faced by start-up entrepreneurs.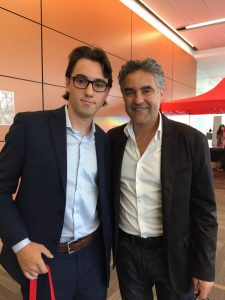 Each semester, CENGN brings in students from various disciplines for a 4-month work term. Click here to learn more about our student opportunities! Since I began my co-op in September, I have been exposed to many projects, tasks and events which have broadened my understanding of the role of Finance in the ICT and tech industry. For this reason, I was exceptionally excited to attend the Startup Canada Day on the Hill, as it presented the opportunity to make connections with some of Canada's leading names in Entrepreneurship, Finance and Technology. These connections will undoubtedly help propel my career and allow me to contribute to the future of Canada's business landscape. I particularly enjoyed listening to keynote speaker Bruce Croxon, famously known as one of the five 'Dragons' on Canadian reality show 'Dragon's Den'. Bruce passionately stated that "there has never been a better time to start a business. It is truly the best time to be a Canadian." Mr. Croxon followed this statement by eluding to Canada's political strength, strong talent pool and government assistance as compelling reasons to start a business in Canada.
Overall, Startup Canada Day on the Hill was a wonderful event. It provided a national platform for entrepreneurs to collaborate with government to make Canada more attractive for business development. As a consortium of members and partners, CENGN looks forward to participating in events which lower the barriers to entry for startups, and foster teamwork and innovation among industry stakeholders.
We would like to extend a big congratulations to Startup Canada, the Business Development Bank of Canada and Intuit Canada for organizing another productive event. We cannot wait to attend again next year!
[cherry_button text="View other CENGN Events" url="https://www.cengn.ca/events/" style="default" icon_position="top" bg_color="#ffffff" color="#000000″ min_width="80″ target="_self"]Board of Directors [/cherry_button]
CENGN updates, in your inbox.