---
Welcoming new talent at CENGN for fall 2018
Every year we select a handful of talented students to learn about the next generation of technology and talent in Canada's information and communication technology sector (ICT). This semester, CENGN gives a warm welcome to 10 students who are here with us for the next 4 months. Currently learning at University of Ottawa, Carleton University, University of Victoria, and Willis College, these ten students have just finished their first couple of weeks at CENGN and are gearing up for what promises to be an eventful Fall.
Our students fill positions in network engineering, cloud services, marketing, finance, and human resources. We are on a constant lookout for students who show initiative, collaboration, and have a drive to help the Canadian ICT community. From a technical perspective, CENGN looks to hire students who excel in skills such as networking, cloud technologies/systems, security, and high-speed wireless technology. It is our goal to take Canada's most innovative students in the sector and help mold them into world class networking professionals.
Getting Started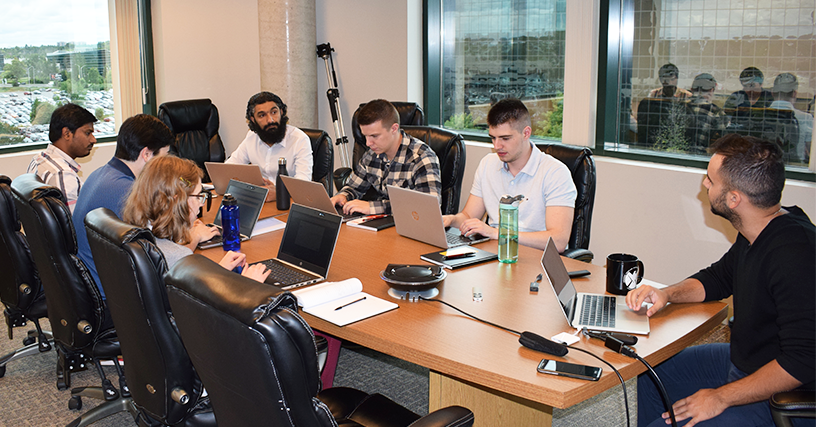 The students began their semester by participating in a training bootcamp. This bootcamp consisted of 2 full days of presentations from employees at CENGN who provide a break down of how CENGN works both internally and externally. The program is designed so that the students can confidently identify who CENGN works with, the services our company provides, and why CENGN is so important to the Canadian ICT sector. Ultimately, the bootcamp creates a smoother transition into the office for the students. After the two days of orientation and technical training, the students in marketing, finance and HR are put to work right away within their teams. The engineering students, however, will continue the bootcamp for two more weeks in order to receive more technical training and then finish with a final exam. CENGN implemented a certification process to showcase the positive impact the training provides for our incoming engineers. The engineers will have to successfully pass the Cloud Administration and Networking Certification (CANC) examination before moving forward in our company and working with our next-generation infrastructure. Passing the CANC exam confirms that every engineer has a thorough understanding of how to operate an OpenStack cloud deployment using Linux Foundation projects. Once passed, the students can add the much-earned certification to their resumes and gain a competitive edge to be successful within the ICT industry.
Pushing our Students to Bring CENGN to the Next Level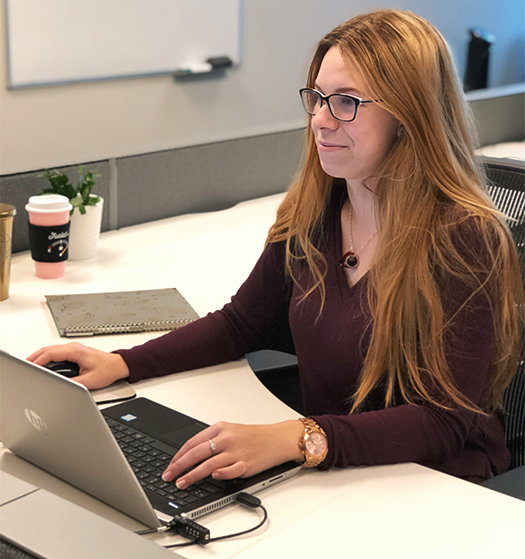 Throughout the work term, we are providing our students with the support and knowledge necessary to contribute towards our company's mission in a meaningful way. We strongly believe that with the right tools, students will provide bright and innovative ideas to our organization that allow us to further grow networking technology and the strength of the ICT sector in Canada. We train and challenge our students to bring out their full potential, and moreover, provide young professionals the opportunity to walk away with the absolute best experience, a strong skill set, and to make a unique impact within our company and ICT division.
Students interested in an internship at CENGN should expect hands-on work involving projects with small and medium enterprises (SMEs), as well as becoming familiar with the products and services provided by our members and partners. Through CENGN projects, we provide an infrastructure as well as services to growing Canadian businesses to test the functionality and scalability of their products and solutions. These projects include a wide range of networking areas like SDN/NFV/SD-WAN, Internet of Things (IoT), Data Centre/Could, Cybersecurity, Mobile Networks, Network Transport and Network Applications. During the semester, the students will make significant contributions to these projects. Our co-op program is designed so that students leave our company well equipped to work with high caliber multi-nationals, as well as the most innovative start ups. Ultimately, we hope companies will be able to add these students to their work space and grow their organization. With a 97% employment rate for our intern alumni, we can tell the community is taking advantage of these eager young professionals.
Looking to hire a recent graduate? CENGN's student intern alumni are trained with hands-on experience in the latest networking technology.
Click here to learn how you can hire a former CENGN student
We are now accepting co-op students for winter semester positions.
If this opportunity peaks your interest, please email us at student-hr@cengn.ca
[cherry_button text="Student and Academia Page" url="https://www.cengn.ca/service-view/academia-students/" style="default" size="large" centered="yes" fluid_position="right" icon_position="top" color="#000000″ min_width="80″ target="_blank"]student and academia page [/cherry_button]
Click Here to Read More About our Student Internship Program
CENGN updates, in your inbox.