---
Published: December 21st, 2017
It's been a busy December at CENGN (Centre of Excellence in Next Generation Networks) as we hosted our annual CENGN Summit and commercialization projects have been really rolling in! Recently, we started a new Data Centre and Cloud project with Canadian cybersecurity company Interset. The three-year-old company is local to Ottawa and just a quick walk down the street from CENGN's offices. They're a security-analytics company (built on the open source platform Hadoop) with the passion to keep organizations safe from cyber threats. Interset is built on a team of 50 security experts, data scientists and strategic developers who use a foundation of advanced mathematics to continuously develop faster and smarter cybersecurity to combat the constantly evolving attacks of thieves and hackers on the other end.
At a time where security breaches are becoming common, and even expected, the cybersecurity industry is more important than ever. Interset noticed a need in the market for a scalable, numerical, and adaptable approach to threat detection and management. Their solution includes an ever growing library of machine-learning and advanced analytic models to detect and analyze anomalies then ranks them to determine if they're malicious. Interset provides its service using a variety of data sources such as authentication logs, VPN, and network logs. In addition, the organization offers endpoint sensors that monitor the activity on computers (such as browser uploads, file access, email attachments, etc). It logs these details and sends them back to the endpoint server for processing and automatic identification of threats. Based on the analyzed data, the end user is then able to prevent theft or data loss.

Interset's solution has a proven track record of protecting organizations from both internal and external threats, so the next step for the company was to expand its scalability. This is where CENGN comes in! Interset is looking to find the peak capacity to determine how many client requests can be handled simultaneously. This information is key when setting out guidelines for Interset's server requirements based on the number of users and devices a customer is using. The difficulty in testing scalability is the cost associated with the infrastructure to simulate a real-world environment, including tens of thousands of simultaneous client requests.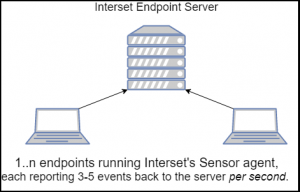 We're able to address this problem by providing companies their own space in the CENGN infrastructure to test solutions. Interset can now utilize the cloud tenancy provided to stress test their offering and determine optimal parameters. In addition, our project management team configured Virtual Machines (VMs) to act as client requests and bare metal to perform as endpoint servers. This allows Interset to deploy their solution within the CENGN Cloud as if they were doing so for different sized customers.
Projects like these demonstrate how we offer our services and resources to help small and medium-sized enterprises that require a large network infrastructure to carry out their scalability and stress tests. We also accept projects in networking areas including SDN/NFV/SDWAN, IoT/Smart City Applications, Network Transport, Network Applications, Security, and Mobile Networks­. The driving force behind everything we do at CENGN is our vision to accelerate commercialization and make Canada the dominant player in information communications technology.
You can also count on us to update you when Interset closes out their project. They're completing testing now and are set to finish up at the end of December so keep an eye out for the details!
[cherry_button text="View Project Results" url="https://www.cengn.ca/service-view/interset/" style="default" centered="yes" icon_position="bottom" color="#000000″ min_width="69″ target="_self"]
[cherry_button text="Submit your own project here" url="https://www.cengn.ca/projects/" style="default" centered="yes" icon_position="bottom" color="#000000″ min_width="69″ target="_self"]
CENGN updates, in your inbox.