---
Published: October 18th, 2017
It's student recruitment season at CENGN and our student programs team has been busy looking for young talent across the country!
Today, CENGN took a drive to Kingston to attend the Queen's University Engineering and Technology Fair. The bi-annual event connects companies, primarily in the tech sector, with students in the university's engineering and computing programs. The fair attracts thousands of students and new graduates seeking internships, summer positions, as well as full time roles. Given CENGN's commitment to expanding our academic partnerships, we were excited to promote our winter and summer student openings at Queen's.
CENGN has a strong focus on student training, which sees us welcoming a new group of co-ops and interns each term. Here, students are considered as much a part of the team as our employees, handling the same projects and tasks. Our goal is to grow a rich talent pool of professionals in the ICT and tech sector for Canadian small and medium enterprises (SMEs) and multinationals, like our members and partners, to hire and grow their business with. We believe this will significantly drive up Canada's position as a global leader in next generation networking technology.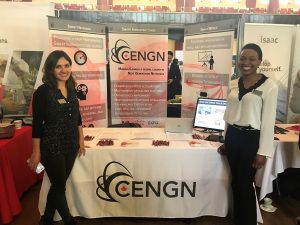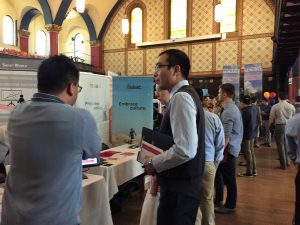 To represent CENGN at the event, we sent over our HR and Recruiting Manager, Nathalie Guthrie, together with Program Manager, Randy Elias, and Administration Specialist, Loli Morales. CENGN's booth was busy all day as students flocked in to learn more about the organization and interact with our team. As a member of the Engineering team, Randy shared some of the previous projects we've worked on at CENGN and how each student could potentially help us work on future projects.
CENGN has two categories of student positions for engineering students, namely Cloud Services Engineering Student and Cloud Infrastructure Engineering Student. Student terms begin with a Bootcamp session during which cloud engineering students learn about our multi-vendor CENGN Infrastructure as well as how to deploy OpenStack on the CENGN OPNFV Community Pharos Lab. Learn more about our Pharos training and certification program here. After a rigorous training program, students get to work on various project areas, including SDN/SD-WAN, Internet of Things (IOT), Data Centre and Cloud, Security, Mobile Networks, Network Transport, and Network Applications. Beyond cloud engineering positions, CENGN also has openings for students specializing in Marketing, Finance, Project Management and Administration.
We were happy to see how well the event was attended by other companies including Tier 1 member, TELUS. CENGN salutes Queen's University for playing an active role in connecting key stakeholders of Canada's tech sector, academia, research & leadership, and industry, through this brilliant initiative. We are certain we will see Queen's students at CENGN's headquarters soon, and we look forward to meeting more students at the next career fair!
Want to learn more about CENGN's student opportunities, Click Here!
To apply to CENGN right now, please send your cover letter and CV to students-hr@cengn.ca
[cherry_button text="View other CENGN Events" url="https://www.cengn.ca/events/" style="default" icon_position="top" bg_color="#ffffff" color="#000000″ min_width="80″ target="_self"]Board of Directors [/cherry_button]
CENGN updates, in your inbox.