---
Published: August 28th, 2017
CENGN is well on its way to completing its new project with Montreal enterprise SRC Solution on their Pilot Things software. Pilot Things is a device and data management software for Internet of Things (IoT) that is agnostic to network connectivity and legacy assets. SRC Solution has tested their Pilot Things software compatibility to date with Sierra Wireless, Dell, and Microsoft Azure. In this project, our goal is to test the Pilot Things data management client in our CENGN infrastructure to validate Pilot Things for further growth in the industry.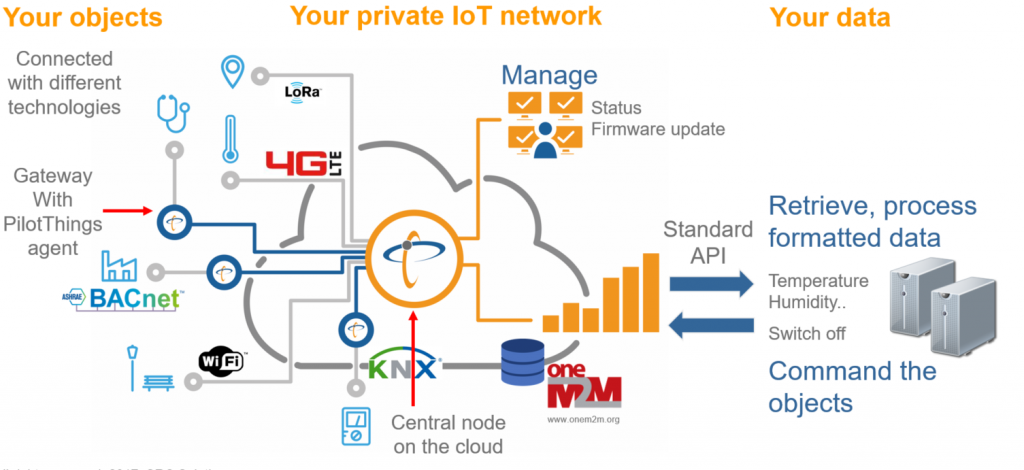 So, what's cool about SRC's IoT solution? Pilot Things translates sensor data from all IoT protocols to IP protocol, connecting it through a router gateway, and to the central cloud or data centre to create a private network. Once the sensors have been connected, end users can gather, analyze, and manipulate their sensor data from the Pilot Things graphic user interface (GUI) deployed in the CENGN cloud.
For example, a lighting sensor connected to a lamp in your home would send data through the Pilot Things agent to be gathered into one central cloud or data centre. This data would be available to you through the Pilot Things GUI on your cellular device, or computer, and give you the option to adjust the level of lighting, or even turn the lamp off. The same concept may be applied to other IoT scenarios, such as temperature control, security systems, and health monitors.
The Pilot Things-CENGN Project will validate the agent's compatibility with the Cisco 829 IoT Router and Cisco IoX technology, which may open up a business partnership between Cisco and Pilot Things. By testing their solution with CENGN, SRC Solution will also benefit from company and product exposure to all CENGN's members and partners.
We strive to support Canadian small and medium enterprises (SMEs) in commercializing their innovative products and solutions. To do this, CENGN offers a variety of services to SMEs in business support, infrastructure services, engineering expertise, and by providing access to our multi-vendor CENGN cloud infrastructure. In this project, SRC Solution will leverage our business and marketing support, as well as our cloud infrastructure services in validating their solution.
We hope that this validation project with SRC Solution helps to push their innovative Pilot Things software to the broader market, and encourages other SMEs to continue innovating in this sector of ICT. Alongside IoT Proof-of-Concept (PoC) and validation projects, CENGN also welcomes SMEs from different areas of ICT to submit their projects for consideration. We accept projects in the areas of SDN/NFV/SDWAN, IoT/Smart City Applications, Data Centre/Cloud, Network Transport, Network Applications, Security, and Mobile Networks.
[cherry_button text="View Project Results" url="https://www.cengn.ca/service-view/src-solution-pilot-things/" style="default" centered="yes" color="#0a0a0a" target="_self"]
[cherry_button text="Submit Your Own Project Here" url="https://www.cengn.ca/projects/" style="default" centered="yes" color="#0a0a0a" target="_self"]
CENGN updates, in your inbox.